As Nigeria joined the world to mark the World Toilet Day during the week, the Bread of Life Development Foundation (BLDF), a non-governmental organisation (NGO), has called on the citizenry to collectively work to make open urination and open defecation history. It also called on government bodies at federal, state, and local council levels to declare safe sanitation a human right as part of an overall strategy to achieve universal access to safe sanitation in the country.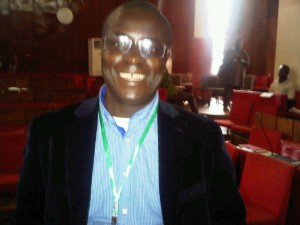 Babatope Babalobi, Executive Director of the BLDF, disclosed: "It is a big shame that, in the 21st century, up to 105 million Nigerians still don't have access to safe toilets; and, out of this figure, 34million Nigerians practice open defecation. And what is even more deplorable and unacceptable is the fact that at the existing rate of progress, as reported by a recent UNDP Human Development Index Report, Nigeria may not meet the sanitation MDG target until 2076.
"Nigeria cannot continue to lament this national challenge, but we need to take action to turn out lamentations to success stories. The 2014 World Toilet Day offers an opportunity for individuals, institutions, and government duty bearers to urgently implement measures and practices that ensure every home has a safe toilet, every public place has an accessible safe toilet within 500 meters, and every institution, school, company, and office has a safe toilet that is accessible to all categories of users including the physically-challenged.
"Now is the time to ensure the sight of people squatting along road paths to defecate, men and women pulling down their clothes to urinate along the  streets, citizens squatting on waste dumps to defecate, and students entering bust paths to defecate, becomes history. With individual and collective action, open urination and defecation can become history in Nigeria, just as the Ebola virus has gone into the history books of our public health."
Proposing measures to end open defecation and improve personal and public health, BLDF says it starts by prioritising sanitation issues, putting it in the front burner of national discourse, away from the back burner it is presently relegated by political and security issues.
"Unless we openly discuss open defecation, we may not be able to put an end to open defecation. Until we stop pretending our personal 'shit' is not a problem, and admit there is a challenge in safely managing and disposing of our personal and collective 'shits', we may not make an headway in accelerating access to safe sanitation for 105 million Nigerians who don't have access to safe toilets, and 35 million Nigerians who presently defecate in the open.."
Other measures recommended by the BLDF are listed to include the following:
The Federal Government should send a positive signal of its commitment to universal access to safe sanitation in Nigeria, by seizing the opportunity of this year's World Toilet Day celebration to declare the right to safe sanitation for all Nigerians, and work with other arms of government and stakeholders towards progressive realisation of this right at households, community and institutional levels.
The Federal Government should honourably fulfil financial commitments for the sanitation sector made at various high-level meetings including the World Summit on Sustainable Development in Johannesburg 2000, United Nations Assembly, New York in 2010, African Sanitation and Hygiene conference, eThekwini in 2011, and the Sanitation and Water for All meeting in Washington, in 2012. Specifically, the Federal Ministry of Finance should ensure progressive annual increases in budget allocation and ensures that at the minimum up to 0.5% of Nigeria's national budget is allocated to sanitation.
State and local governments should as a matter of emergency and necessity also create budget lines for water-related sanitation, particularly hygiene promotion, and safe disposal of human faeces.
Several states are yet to adopt the implementation of Community-led Total Sanitation (CLTS) approach for scaling up rural sanitation; as such the National Task Group on Sanitation should catalyst efforts in this regard, working with various state and local governments, as well as rural communities to ensure every Nigerian village is declared Open Defecation Free (ODF) within the next five years.
Institutionally, urban sanitation is presently an 'orphan' particularly at the state level, as many states do not have any agency charged with urban sanitation policy formulation, coordination, and service provision. To address this gap, every state should set up a State Task Group on Sanitation for state level policy coordination; and go a step further by saddling the task of provision of sanitation facilities in urban public places in an appropriate agency. In the same vein, state governments should empower their Rural Water and Sanitation Agencies to develop sanitation service in rural levels, where the body should be created in states where it does not presently exist.
Government and NGOs should consciously mainstream equity and inclusion issues in all sanitations projects to ensure sanitation facilities are accessible and usage by the 20 million Nigerians who are physically challenged, and not able to access conventional sanitation facilities.