BP says it will slash its own greenhouse gas emissions to net zero by 2050 and gradually shift its investments into energy projects that do not emit carbon dioxide.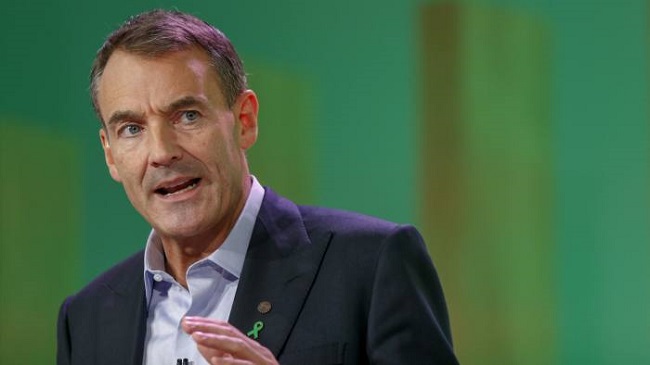 The world's fifth-largest oil-and-gas company said on Wednesday, February 12, 2020 that it would cut the carbon content of its products by 50 percent by 2050 by selling energy that does not come from fossil fuels or by offsetting oil-and-gas production with tools that capture carbon dioxide.
It also said it would install methane measurement equipment at all of its processing sites by 2023 to reduce leaks.
Carbon dioxide and methane are two gases that have contributed to a warming climate, scientists say.
The plan would change the focus of the 110-year-old company. And the amount of carbon dioxide emissions BP intends to eliminate would roughly equal the emissions of Britain.
"Make no mistake: We aim to invest more and more in low-carbon businesses over time and by consequence less and less in oil and gas," BP's new chief executive, Bernard Looney, said in a webcast from London.
However, Looney did not lay out a timetable, and for now BP will continue drilling, which drew sharp criticism from climate activists.
For instance, Ellen Gibson, UK 350 Campaigner, remarked that it is impossible to keep to a 2-degree warming limit if digging up and burning fossil fuels continued.
She said: "BP is one of the companies most responsible for the climate emergency. They say they want their business model to align with the Paris Agreement. But, simply put, it is not possible to keep to a 2-degree warming limit – let alone 1.5 degrees – while continuing to dig up and burn fossil fuels.
"Unless BP commits clearly to stop searching for more oil and gas, and to keep their existing reserves in the ground, we shouldn't take a word of their PR spin seriously."
Yossi Cadan, Global Finance Campaign Manager, said: "BP's current business model is unsustainable in a low-carbon future. The plan announced today is a long way from the urgent action needed to halt climate breakdown. There is no more room for new fossil fuel development.
"The lives and livelihoods of the communities on the frontlines of climate breakdown and those of future generations are in jeopardy because of companies like BP. Them and other fossil fuel companies must be held accountable for the current climate crisis, and any climate related plan presented by them needs to include how to compensate those who are suffering the worst impacts of it."
The company's pledge to achieve net zero carbon emissions assumes that it would still produce oil and gas in 2050, with those emissions offset by technologies that might suck carbon dioxide from the air. The net zero calculation does not include BP's one-fifth share of Rosneft, one of the biggest Russian oil companies.
The BP plan does not focus on emissions generated by its customers, such as when people drive cars that burn BP gasoline. For oil companies, that accounts for 85 percent of emissions.