The Lower Niger River Basin Development Authority (LNRBDA) has appealed to relevant authorities to expedite actions on public water supply system to reduce the rate of borehole sinking.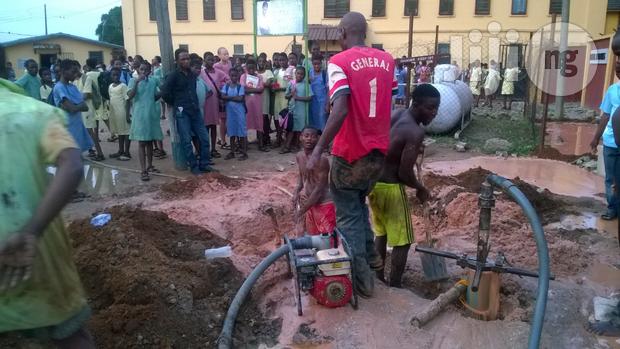 A water borehole is the use of a natural resource, by drilling to reach the large amount of water stored in water-bearing rocks in the ground below.
Dr Adeniyi Aremu, the Managing Director of the Lower Niger River Basin Development Authority, on Wednesday, February 10, 2021 made the observation during an interview with newsmen at the University of Ilorin in Kwara State.
Aremu, also an Associate Professor in the Department of Water Resources Engineering of University of Ilorin, explained that frequent borehole sinking at long-run has negative effects on earth structure to the detriment of the people
He advised government to make more funding and resources available for water generation as water is life and no efforts geared towards promoting its sufficiency could be regarded as too much.
Aremu expressed the readiness of the organisation to improve on its working relationship with the University of Ilorin to improve the availability of potable water and agricultural productivity.
"The River Basin Authority is ready to improve partnership with Unilorin on potable water and agricultural productivity.
"The Agency is ready to prepare as much farm land as possible for staff members of the University who are willing to cultivate one crop or the other on the University's vast land and at the behest of the institution's authorities," he said.
He explained that, if desired, his organisation "may facilitate the use of fallow parts of the university land as farmland for staff" on the basis of what he called "One staff, One hectare", which would address the challenge of food insufficiency.
Aremu said that his agency had provided some latest technological devices to some academic Departments of the University to aid teaching and learning.
He explained that among the benefiting Departments were: Water Resources Engineering, Geography and other related ones, who were using those materials to enrich the wherewithal of their staff members and students.
He also noted that the Niger River Basin Development Authority under his leadership had provided accommodation for many students of the university who applied for Industrial Attachment.
"Quite a significant percentage of the staff members of the authority are also products of various academic departments of the University of Ilorin," he said.
By Fatima Mohammed-Lawal