Hunger and population outgrowing food supply have been an age-long issue. The English scholar and cleric, Thomas Malthus, raised the issue in 1798, in his now famous Malthusian Theory of Population.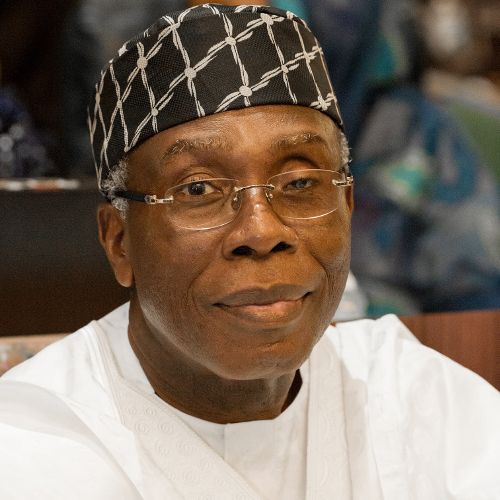 The cleric espoused his theory in his writings, "An Essay on the Principle of Population''.
The Malthusian Theory of Population is a theory of exponential population growth and arithmetic food supply growth.
Malthus argued that because there will be higher population than the availability of food, many people will die from the shortage of food.
He theorised that this correction will take place in the form of Positive Checks (or Natural Checks) and Preventative Checks.
These checks would lead to the Malthusian catastrophe, which would bring the population level back to a 'sustainable level'.
Mankind has not allowed the Malthusian catastrophe to occur, but has continued to strive to apply scientific methods to boost agricultural production.
In spite of advances in the sciences; food insecurity remains a global problem.
However, experts say that if mankind embraces biotechnology, hunger would be conquered and there would be no fear of the Malthusian catastrophe as agriculture based on biotechnology is sustainable.
They also say that biotechnology has lower environmental impact than traditional agriculture due to the reduction of carbon emissions through direct seeding.
Also, genetically modified crops help poorer farmers because with more resistant seeds, they have better harvests and sell their product better.
They also say that farmers need less input to take care of their crops, while most genetically modified foods are grown with fewer pesticides.
They also say that by creating more pest-resistant plants, the need to use pesticides to protect crops is reduced.
The productivity in genetically modified crops is estimated at between 7 per cent and 20 per cent higher than in traditional agriculture, and 33 per cent higher than organic crops.
On the advantages of biotechnology, former U.S. Agriculture Secretary Tom Vilsack said: "Biotechnology allows farmers to grow more food on less land using farming practices that are environmentally sustainable.
"Through biotechnology, seeds yield more per hectare, plants naturally resist specific insect pests and diseases and farming techniques improve soil conservation.
"Farmers and ranchers can help plants and animals fight diseases and adapt to environmental stress and climate change.
"We can enhance the nutritional content of foods and improve human health through plant- and animal-produced therapies.
"The benefits of biotechnology are especially meaningful at a time when our global population is growing and our demand for food is increasing, especially in developing countries.''
The Federal Government aware of the importance of biotechnology in national development, in April 2001, approved the establishment of National Biotechnology Policy.
The policy led to the establishment of the National Biotechnology Development Agency (NABDA) in November 2001.
NABDA has the mandate: "To make biotechnology an engine of growth for socio-economic development of Nigeria.
"To promote biotechnology activities that positively respond to national aspirations on food security, job/wealth creation, affordable healthcare delivery and sustainable environment, among others.
NABDA has lived up to its mandate, and the overseeing Director General of the Agency, Mr Oguntunde Abayomi, has sustained and boosted the tempo.
At a South-West Sensitisation programme of the Open Forum on Agricultural Biotechnology (OFAB), held in Abeokuta recently, former President Olusegun Obasanjo, stressed the need to embrace innovative advances such as biotechnology in agriculture.
The former president said if properly developed, biotechnology would bring an end to hunger across the globe.
Obasanjo said that something urgent needed to be done to boost agricultural yields, as the world's population was expected to reach 9.7 billion by 2050.
He noted that biotechnology had the potential to increase agricultural productivity, move agriculture away from dependence on chemical inputs and help to reduce environmental problems.
Obasanjo said that biotechnology was taking mankind beyond the depths of understanding of chemical and physical possibilities.
He stressed that agriculture occupied a strategic position in global efforts to address issues of hunger and diseases.
"Deliberate efforts should be made on the part of government to encourage scientific incursion into agriculture via policy measures specifically designed to encourage research and development and the adoption of new technologies.
"I'm excited that OFAB has presented a formidable platform for dialogue on the transformation of agriculture through quality information dissemination on agricultural biotechnology in Africa,'' he added.
Abayomi said that the event was timely as Nigeria and other African countries were adopting improved agricultural technologies for food security.
At a roundtable on biotechnology organised recently by NABDA, speakers stressed the need to embrace biotechnology in order to achieve food sufficiency.
They said that the country risked full blown famine if it continued to rely on traditional agriculture
One of the speakers, Prof. Akinola Hassan, explained that "people are talking about organic agriculture; biotechnology is not confronting organic agriculture, both of them go hand in hand.
"What we are having is ignorance; that's where education comes in."
Hassan, a professor of Genetics at Uthman Danfodio University, Sokoto, described the campaign against genetically modified organisms (foods) as mere propaganda.
"GMOs don't kill, they are not dangerous to health; the Federal Government is talking about green alternatives.
"They are saying that they want foods to be produced in safe manner; and that can be achieved through the use of GMO."
Luckily some political leaders are already pushing for the application of biotechnology in the development of improved seedlings in order to boost agricultural yields.
One of them Gov. Willie Obiano of Anambra State, spoke recently in Abuja at the official launch of the Agriculture Promotion Policy 2016-2020, by the Federal Ministry of Agriculture and Rural Development.
Obiano, represented by his deputy, Dr Nkem Okeke, said scientific applications would make agriculture more interesting for farmers.
The governor said: "We need seedlings that will give better yields.
"Anambra is the smallest state in Nigeria in terms of landmass and it is even getting smaller because of erosion that is destroying our land.
"We need to have seedlings that will give better yields so that instead of 1,000 tonnes of rice per hectare; you may have it yield 4,000 to 5,000 tonnes of rice per hectare."
Obiano's position was in line with the advice of Food and Agricultural Organisation (FAO).
According to FAO, "Feeding a world population of 9.1billion in 2050 will require raising overall food production by 70 per cent (nearly 100 per cent in developing countries).''
The Federal Government, by adopting the National Biotechnology Policy has acknowledged its importance in the fight against hunger and poverty.
NABDA, the body charged with the task of developing the sector, should be given all the encouragement to enable it to deliver on its mandate.
Happily, Oguntunde, the Overseeing Director-General since Jan.8, 2018, pending the appointment of a substantive director- general, has brought transformation to the Agency.
Before he assumed office at NABDA, he was the Director, Bioresources in the Federal Ministry of Science and Technology, and supervising Director of NABDA.
Besides staff training, he renovated the medical biotechnology laboratory, green houses and agricultural biotechnology laboratories and constructed additional fish ponds.
His speech during the March for Science in Abuja, on April 14, was indicative that with the needed support, NABDA would play vital roles in advancing agricultural biotechnology to boost food security.
Quoting the Minister of Science and Technology, Dr Ogbonnay Onu, Abayomi said:
"With a strong and diversified economy driven by science, technology and innovation, our citizens will be happy and proud to remain at home to pursue their happiness and contribute meaningfully to economic development."
Experts and stakeholders say that approval of the National Biotechnology Policy showed the commitment of the Federal Government to boost food security through science and innovation.
They stressed the need to sufficiently fund NABDA to enable the Agency deliver on its mandate.
By Obike Ukoh, News Agency of Nigeria (NAN)