Chad has pledged to restore five million hectares by 2030 as part of the Bonn Challenge. The commitment was made at the recently held Southern Africa (SADC+) Bonn Challenge Ministerial Roundtable, organised by the Malawi Department of Forestry and the International Union for the Conservation of Nature (IUCN).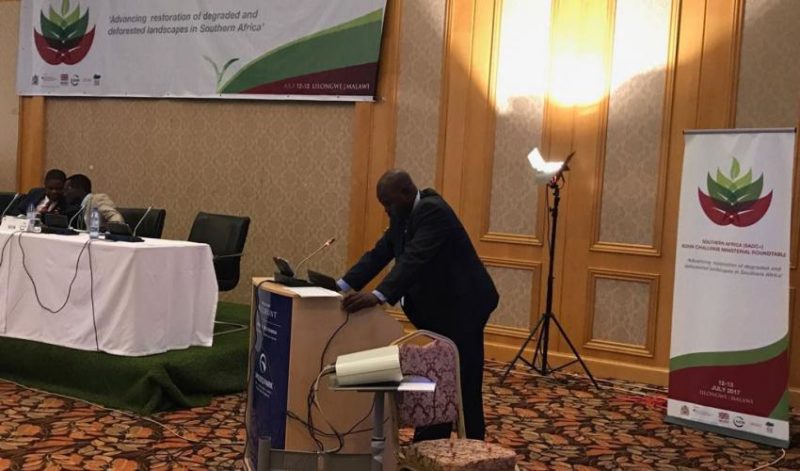 Chad's pledge brings the total hectares pledged to the Bonn Challenge to 156.05 million.
A global effort to bring 150 million hectares of degraded and deforested land into restoration by 2020 and 350 million hectares by 2030, the Bonn Challenge has received unprecedented support from African nations with 80.4 million hectares pledged by 19 countries including Chad.
Since 2016, 16 countries have also endorsed the Kigali Declaration to foster regional collaboration on forest landscape restoration (FLR). The SADC+ Roundtable is one in a series of high-level dialogues initiated by countries with the support of IUCN to exchange solutions and experiences with FLR.
"It is clear that degradation and deforestation in Chad is impacting our most vulnerable communities. The Bonn Challenge presents an opportunity for us to restore 5 million hectares of degraded and deforested land and will support the achievement of our Vision 2030," said Oumar Mahamat Hassane, National Coordinator, COMIFAC on behalf of Mahamat Brah, the Chadian Minister of Environment and Fisheries.
Several countries in the region have made considerable progress on their pledges. At the SADC+ roundtable, Malawi released the results of its national assessment of restoration opportunities and a roadmap for achieving its 4.5 million hectare pledge to the Bonn Challenge and the African Forest Landscape Restoration Initiative (AFR100). In 2016 and early 2017, Rwanda and Uganda completed similar assessments and are working towards operationalising their pledges.
"As the Secretariat of the Bonn Challenge, IUCN welcomes Chad's pledge. As we have seen in Africa and around the world, restoration brings direct benefits to local communities, enhancing their food and water security, generating livelihoods and building their resilience to climate change. We stand ready to provide the policy and technical support that Chad needs to achieve its commitment," said Stewart Maginnis, Global Director, Nature-based Solutions, IUCN.
Chad's pledge to the Bonn Challenge and AFR100 brings together several domestic programmes focused on restoration, including the Neutral Land Degradation Project, Great Green Wall Programme, Lake Chad Ecosystem Rehabilitation and Restoration Project and the Provincial Landscape Restoration Initiative.
A defining feature of the Bonn Challenge is that it allows countries to achieve multiple domestic and international priorities of poverty alleviation, biodiversity conservation, climate change adaptation and mitigation, and land degradation neutrality.
As emphasised by Bright Msaka SC, Minister of Natural Resources, Energy and Mining, Malawi, who opened the SADC+ Roundtable, FLR and the Bonn Challenge have the potential to improve the quality of life and economic opportunity for millions across Africa. By pledging to the Bonn Challenge, Chad has joined a global community of governments and institutions committed to ensuring the benefits of restoration are realised on the ground.