The Minster of State, Budget and National Planning, Mrs Zainab Ahmad, on Monday, February 5, 2018 said no fewer than 300,000 Nigerians displaced by Boko Haram insurgency are taking refuge in Cameroun, Chad and Niger.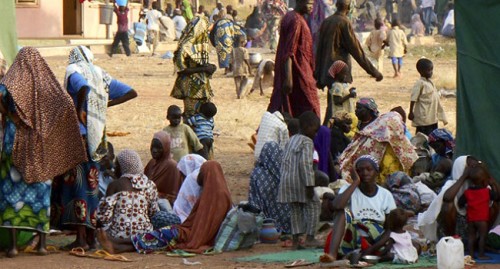 She made the disclosure at the Special Town Hall Meeting for Military and Security Agencies in Maiduguri, Borno State.
She said 8.5 million persons were displaced by Boko Haram insurgency in the northeast and that
80 per cent of the displaced persons were from Borno.
She explained that 30 per cent of the people were taking shelter at Internally Displaced Persons (IDPs) camps, while 70 per cent of them were staying in host communities.
The minister said the Federal Government, in partnership with the UN and humanitarian actors had initiated various programmes to address the effects of crisis in the region.
Zainab said government had distributed 30,000 tonnes of grains under the Emergency Food Intervention Programme, adding that the government, in concert with World Food Programme (WFP) was providing food assistance to over one million people on monthly basis.
She added that healthcare services were also extended to 42 local government areas in collaboration with the United Nations Children's Fund (UNICEF) and World Health Organisation (WHO).
She noted that "government had been providing healthcare services to six million people in the past two years.
"We also controlled diseases such as cholera, measles and Hepatitis, as well as malnutrition and
provided water to affected persons."
Ahmad said government had worked out modalities to ensure continuity and consolidate on the feat achieved in reconstruction, rehabilitation, reconciliation and re-settlement.
She stressed the need for effective programmes to build resilience and provide livelihoods to enable displaced persons to return to their homes and resume their normal lives.
While commending the military over the successes recorded  in the counter-insurgency operation in the region, she said the military had been overstretched, and called for engagement of police to facilitate restoration of civil authorities.
The minister expressed concern over proliferation of humanitarian organisations especially in Borno,
saying most of the groups operate without proper registration.
She suggested effective modalities to fast track rehabilitation and training of teachers, nurses and doctors to address manpower shortage and enhance delivery of quality education and healthcare services.
Minister of Interior, Abdulrahman Dambazau, said Federal Government had signed a tripartite agreement with Cameroun and UN-Refugee Agency (UNHCR) to facilitate safe and voluntary return of refugees.
He said "there are about 90,000 Nigerian refugees in Cameroun alone.
"We have a technical committee and we are working with Cameroonian authorities to sort out some issues.
"The movement, expected to hold now, has, however, been shifted to next month."
Dambazau said sound programmes were also implemented for rehabilitation, resettlement and de-radicalisation of repentant insurgents.
He added that government had adopted effective modalities to address social, economic and ecological challenges facing the northeast region.
The News Agency of Nigeria  (NAN) reports that the special town hall meeting was organised by the Ministry of Information and Culture.
The meeting was attended by Minister of Defence Mansur Dan-Ali, Minister of Information and Culture Lai Muhammad, Minister of State, Budget and National Planning, Zainab Ahmad and Minister of Interior Abdulrahman Dambazau.
Other participants included Gov. Kashim Shettima of Borno, members of national and state houses of assembly, emirs, humanitarian and community based organisations, as well as civil society organisations.
By Rabiu Sani