The agreement by Shell Petroleum Development Company of Nigeria Limited (SPDC) to pay 55 million (N15.3 billion) pound compensation to the Bodo community over two spill incidents in 2008 has continued to generate reactions. The latest comes from the Lagos-based Environmental Rights Action/Friends of the Earth Nigeria (ERA/FoEN), which has described the step as a welcome development that should open doors for more communities that have suffered the oil giant's environmental degradation to seek legal redress.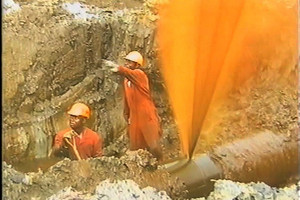 Shell's decision to pay the community was arrived at after a settlement meeting with the affected community. The firm claims it took responsibility immediately the incident happened.
But, the ERA/FoEN, in a statement, said: "The unrelenting quest for justice by the Bodo community even after six years of frustrating negotiations forced the hands of Shell. The victory goes to the people."
ERA/FoEN Executive Director, Godwin Ojo, stated: "While we see this agreement as a victory for the Bodo community folks who have suffered ecocide and loss of livelihoods, it is also a glimmer of hope for communities that have endured massive degradation from Shell's leaking and ill-maintained facilities in the Ogoni and elsewhere in the Niger Delta.
"The amount may seems huge but it is paltry when compared to the ecosystem disturbance and destruction of livelihoods which has denied income to the victims for 6 years in a country where welfare package is non-existent. This is victory to the Bodo people and to all those who stood by them. This is another watershed development and by this a floodgate of similar cases by victims in the Niger Delta is bound to increase against Shell."
Ojo explained that Shell had thought the community would chicken out in the face of their corporate might. It must be compelled to go beyond piece meal in dealing with the Ogoni issue by complying with the recommendation of the United Nations Environment Programme (UNEP) which has a cardinal call for immediate commencement of clean-up of the massively degraded environment.
He added: "In the last four years since the UNEP report was released we have witnessed an unholy alliance of the Nigerian government and Shell manifest in half-steps, deliberate attempts to muddle the issues and the setting up of a Hydrocarbon Pollution Restoration Project (HYPREP) that has been used to deceive the Ogoni people.
"We again use this medium to reiterate that the Bodo, the entire Ogoni in collaboration with other Niger Delta communities and civil society approach the United Nations to appoint a Niger Delta Reconciliation and Restoration Commission with autonomy and authority to do so. The oil companies should be required to contribute an initial amount of $100 billion to address the issues.
"Projects that do not have input from the Ogoni must be abolished and replaced with an internationally recognised clean-up body mutually agreed to by the communities.
"This victory notwithstanding, it is not time to click glasses. Now is the time to pressure Shell to clean up all the polluted environments of the Niger Delta. Tokens are not enough to cover up Shell's ecocide."