The acting Chief Executive Officer (CEO) Designate, BirdLife International, Mr Martin Harper, has expressed concerns over biodiversity loss in the country, especially animal species.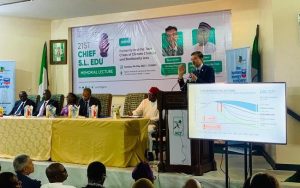 Harper made the disclosure while giving his lecture at the 21st Chief S.L. Edu Memorial Lecture organised by the Nigerian Conservation Foundation (NCF), at the Nigerian Institute of International Affairs, on Tuesday, May 9, 2023, in Lagos.
He said that one in eight species was at the risk of extinction.
The lecture, held in collaboration with Chevron, had "Humanity and the Twin Crises of Climate Change and Biodiversity Loss" as its theme.
Harper said that there were 1,409 globally threatened species with 231 critically endangered.
He added that extinction risk was escalating, stressing that 436 species moved to higher threat category due to deterioration in status.
"Birds face a range of threats. There are 1,409 threatened bird species globally.
"Forest are more valuable standing than being destroyed," he said.
Harper said that he was hopeful and optimistic that nature and climate emergencies could be tackled in an integrated way.
"For me, hope only comes when it is backed up by actions," he said.
The NCF Director-General, Dr Joseph Onoja, said that the foundation would continue to create awareness on issues of environment.
"We need to carry everyone along on the issue of conservation of our environment because we need to protect our environment for our environment to protect us.
"We are faced with dual crises which is climate change and biodiversity and by talking about one, it is going to affect the other.
"For instance, if you are preventing deforestation, you are helping biodiversity and on the other hand, you are also helping to fight against climate change," he said.
He said it was fine for everyone to be aware of the environment, hence the need for the lecture.
"We are gradually changing peoples mind and making them know about climate change," he said.
The Chairman, NEC, NCF, Chief Ede Dafinone, said that the annual lecture was a forum to look at environmental issues and how to tackle them.
"The emphasis today is on how urgent it is to look into the problems and find solutions which is why the annual lecture was a forum to do this.
"We are are ready but we can be readier to tackle this challenges. The problems are getting worse and yet more crimes against the environment are being committed.
"If we don't all sit down and find a solution and balance, this debate will go on for 10 years and sea levels are rising. Something needs to be done quickly," he said.
Two doctoral candidates were awarded grants by Chevron Nigeria.
The General Manager, Policy, Government and Public Affairs, Chevron, Mr Esimaje Brikinn, said that the company had been partnering with the NCF for over two decades.
Brikinn added that the company was delighted to sponsor research grants in memory of Chief S. L. Edu.
"Since 2006, through the S. L. Edu research grant and in partnership with NCF, Chevron Nigeria has been awarding scholarship to doctoral candidate who research works are on environmental conservation.
"About 34 PHD students have benefited from the grant since inception," he said.
Present at the lecture were captains of industries, secondary schools across Lagos State and other distinguished guests.
By Henry Oladele