The National Biosafety Management Agency (NBMA) on Thursday, September 14, 2023, in Abuja said that it would review its biosafety guidelines to conform with international treaties.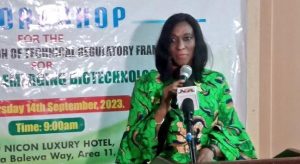 Dr Agnes Asagbra, Director-General, NBMA, said this at the review and validation workshop on technical regulatory frameworks for modern and emerging technologies.
She noted that the review was on  Genetically Modified (GM) Trees and Animals to ensure the safety and health of citizens.
"We are particular about the safety of Nigerians, plants, animals and the environment in general.
"GM trees and animals are to be packaged with a robust strategy to ensure that we maintain the quality of work for which NBMA is known for.
"We are committed to continue to record remarkable progress in the country's standard for Genetically Modified Organisms," Asagbra said.
The D-G said that the agency had finally sealed a collaboration with the Nigerian Customs Service to ensure a close surveillance on all imported items.
"This will ensure a semi detection on, unauthorised boundary movement of all GMOs to and fro the country," she said.
She commended the stakeholders for their support to review and have a robust guidelines.
Mr Umoh Umoh, a stakeholder with Mirista International Limited, expressed optimism that the outcome of the workshop would satisfy the yearnings of the agency and the country.
"I pray for the enablement to justice to the review and the validation of the guidelines on GM trees and animals," he said.
Also, Mrs Scholastica Bello, Acting Director Planning, Research and Statistics Department, NBMA, noted that the workshop was expected to correct errors and capture omissions from the reviewed document on guidelines on GM trees and animals.
She added that the workshop would ensure that GM trees and animals are safe for citizens in the country and also ensure ease in doing business.
By Abigael Joshua