Benue State Commissioner for Women Affairs and Social Development, Mrs Ladi Isigbe, has commended Fidelity Bank Plc. for its corporate social responsibility presence in Makurdi, the state capital.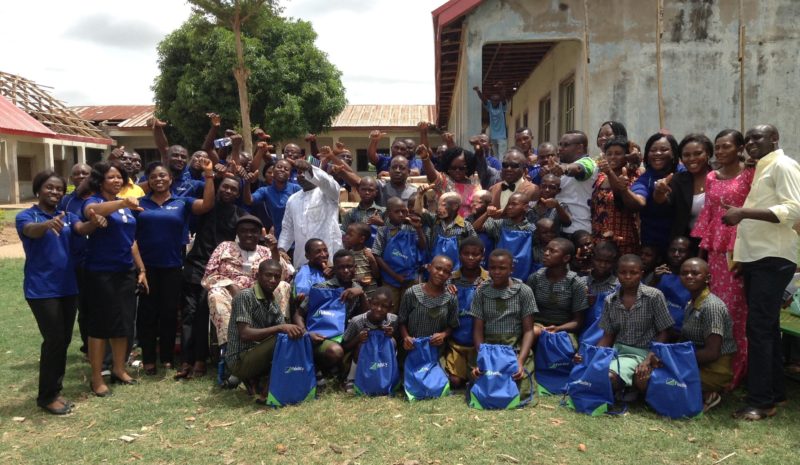 The commissioner, who spoke on Thursday, 26th April, 2018 at Benue State Rehabilitation Centre, Apir-Makurdi when Fidelity Bank Plc., under the auspices of their Corporate Social Responsibility's "Helping Hands Programme" donated various items to special children resident in the Centre, stated that she has seen various indelible marks of the bank's CSR in Makurdi.
The commissioner, who was represented by the Director, Administration and Supply, Benue State Ministry of Women Affairs and Social Development, Mr Elijah Dogoh, charged other institutions in the state to emulate Fidelity Bank in carrying out worthy corporate social responsibility projects to benefit the society, adding that the donation would greatly impact on the lives of the special children.
In his remark, Fidelity Bank's Regional Bank Head North-Central, Mr Sadi Zawua, who spoke through Fidelity's Head, Benue State University Branch, Annette Gyem, stated that the bank is poised to touch lives of the special needs children in honouring the bank's corporate social responsibility.
He noted that the children needed the public's help and, to that end, Fidelity stepped in to provide its little token and identify with its host community.
Also speaking, Fidelity Bank's Head, Corporate Social Responsibility, Mr Chris Nnakwe, stated that the CRS programme, tagged "Back to School Project", was a way for them to appreciate the special children with its token and encourage them to study.
According to him, the bank takes its corporate social responsibility serious and reaches out to communities everywhere it operates, adding that the bank is proud to be a part of the special children's story.
Earlier, the Executive Secretary, Benue State Rehabilitation Board, Apir-Makurdi, Mrs Hembadoon Gum, said she appreciated Fidelity Bank for its support to the cause of the special children, adding that she was overwhelmed as they do not even bank with Fidelity.
In their separate remarks, Kindred Head of Mbagban, Chief Samuel Kwambe, and Senior Special Assistant to the Benue State Governor on Special Needs, Mr Charles Sati, who both commended the bank for donating items to the Board for the special children, reiterated that other banks, organisations and public spirited individuals should emulate Fidelity Bank, in order to support vulnerable children.
Donated items include: packs of tissue paper, bags of rice, bags of salt, mattresses, manual typewriters, branded school bags, branded note-books, cartons of noodles, cartons of soap, gallons of groundnut oil and cartons of seasoning.
Others include bags of milk, cartons of cabin biscuits, cartons of washing soap, bags of garri, bags of beans, and packets of pencils, among others.
By Damian Daga, Makurdi