Domestication of the Agricultural Food Security and Nutrition Strategy (AFSNS) in Benue State has been initiated by the Bill and Melinda Gates Foundation funded Synergos for the State Partnership for Agriculture (SPA) programme in the state.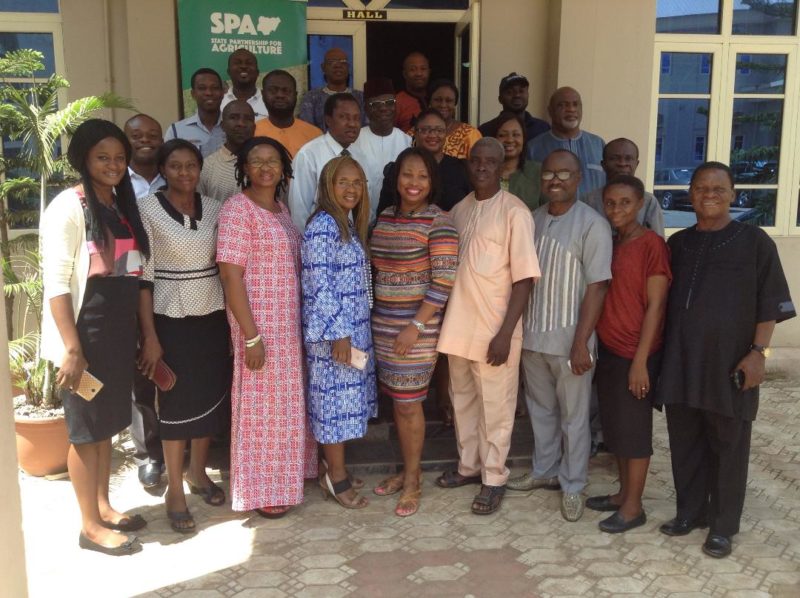 The move to domesticate the strategy for integration in the State Implementation Plans commenced on Thursday, November 9, 2017 at a Synergos organised Benue State Core Delivery Team CDT meeting held at Trust Resort, Makurdi to facilitate the process by training the state actors and key stakeholders on the benefits of the Strategy.
In her presentations, nutrition expert and consultant for Synergos, Dr Funmi Akinyele, who outlined that the Strategy has eight priority areas of enhancing food value chain, diversified food production targeting women and nutrition education, noted that agriculture is vital in addressing malnutrition. She added that there should be emphasis on the practice of nutrition sensitive agriculture, in order to encourage good nutrition practice.
According to Dr Akinyele, lack of information, especially in the face of available options, lack of dietary diversity, lack of exclusive feeding, poverty and poor access to supplements among others leads to malnutrition.
"Over all, information is key to good practice of nutrition," she added.
Also speaking, the Senior Special Adviser to the Benue State Governor on Food Security, Mrs Dorcas Ukpe, charged stakeholders in the state to encourage, embrace and use baseline data in planning strategies, concerning nutrition and agriculture in order to have an idea of what is on ground and what is needed to move forward.
"We can not live without statistics and, until we accept it and use it, we can not have meaningful impact in our development plans," she emphasised.
Earlier, Benue Team Lead Synergos, Mr Michael Agon, maintained that domesticating AFSNS in the state was ideal and would go a long way to ensure the availability of food and tackle issues of malnutrition and hunger.
To this end, Mr Agon, who charged the government to adopt the strategy and give it budgetary provisions in the 2018 budget, added that adhering to it would make it easier for the state government to solve nutrition and food security challenges.
By Damian Daga, Makurdi