In a bid to improve the capacity of Civil Society Organisations (CSOs) in Benue State on gender programming for Sustainable Development Goals (SDGs) and budget monitoring, the Women Environmental Programme (WEP) is holding a two-day forum on Gender Programming for SDGs and Budget Monitoring for CSOs in Makurdi, Benue State.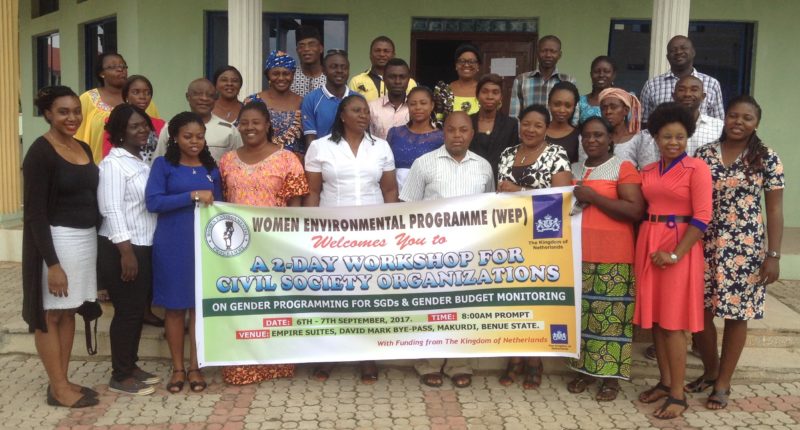 In her welcome address on Wednesday, September 6 2017, Executive Director of WEP, Dr Priscilla Achakpa, who outlined that very few people know about SDGs, stated that, as a result, they (the WEP) decided to come and sensitise CSOs in the state on the Goals.
According to her, development without the inclusion of the SDGs cannot be wholly achieved, adding that if the CSOs must implore people and government through advocacy on SDGs, they need to know what it entails.
"We feel that the civil society organisations on ground here have to be well grounded in SDGs in order to properly do their job," she said.
Dr Achakpa stressed that, for the CSOs to hold government accountable when it comes to the issue of budgeting, they need to have a hands-up knowledge of budgeting process which makes the workshop very important in building their capacity in tracking budgets.
She sued for partnership between CSOs and the government, as the latter cannot carry out development alone to have a vibrant society, stating that there is need to change how things are done as change begins with everyone.
A facilitator and Deputy Executive Director, WEP, Kyauta Giwa, in her presentations titled: "Understanding the Key Concepts of Gender" and "Introduction to Household/Public Budget Process," called for a proper understanding and application of gender in all spheres of life.
She added that knowing how to track public budget would greatly enhance CSOs ability to enhance government's performance in budgetary process.
In another presentation titled: "Human Rights, Women's Rights and Legal and Institutional Framework for Gender Responsiveness", Programme Officer of WEP, Benson Attah, called for an understanding of human rights, even as he advocated for such rights.
By Damian Daga, Makurdi