A call has been made to the Benue State Government to provide farmlands to Internally Displaced Persons (IDPs) in the state as a means of curbing imminent food shortage.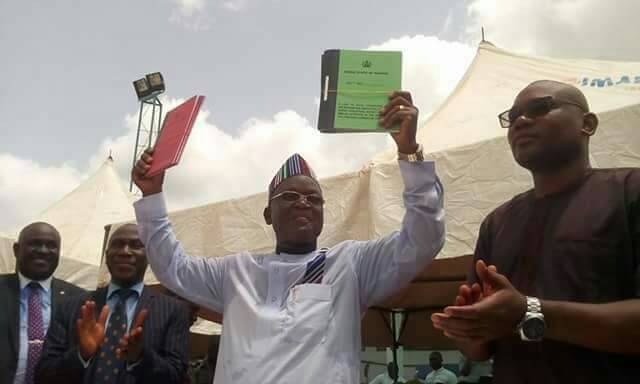 Making this call on Wednesday, May 30, 2018 in Makurdi at the Action Vision Group (AVG) and Action Innovation Group (AIG) meeting organised by Synergos, Assistant Rural Institution Gender and Youth Mainstreaming (ARIGYMO) of International Food for Agricultural Development (IFAD), Mr Fabian Asemagema, noted that there is impending food shortage in the state.
He lamented that the 2018 cropping season was at hand and many farmers in Benue were still living in IDPs because their areas were still occupied by the insurgents.
He said that as a temporary measure to tackle the imminent food shortage, the state government should as a matter of urgency provide lands to the IDPs so that they too could cultivate crops so as to prevent acute food shortage.
He also stated that the government could as well support them with all the necessary inputs since they were handicapped presently.
The Field Assistant, Synergos, Mr Raymond Jolie, who noted that the meeting was mainly aimed at finding solutions to the perceived food crisis as a result of the displacement of farmers by Fulani herdsmen in the state, also encouraged farmers to have home gardens in addition to their large scale farms because it would go a long way to check food insecurity.
Jooli further disclosed that Synergos would soon establish a Rice Incubation Centre in the state to assist processors to package the product in 1kg, 5kg up to 50kg bags to be sold within and outside Benue.
He added that they could even export the product because it would meet international standard and would also get National Agency for Food Drug and Administration Control's (NAFDAC) approval.
Also speaking, the Chairman, Cassava Growers Association of Nigeria, Chief Igyo Ali, urged government to encourage and support farmers in LGAs where there are no attacks to cultivate massively, so as to cushion the imminent food crisis as a result of the attacks on farmers by armed Fulani herdsmen.
Speaking separately, consultant, Acefields Development Partners Limited, Mr Ushahemba Aondoakaa, and a rice farmer, Mr Fidelis Unongo, called on government to venture into massive agricultural activities since most farmers were displaced and, as such, cannot carry out agricultural activities soon.
A cassava processor, Mr Joseph Ameh, called on the government to revive the marketing boards to enable them mop up produce and store for rainy days, stressing that it was a long term measure of tackling food insecurity.
By Damian Daga