Key leaders of climate vulnerable countries met from 11 to 15 August in the Philippine capital Manila for a series of events held by the Climate Vulnerable Forum (CVF).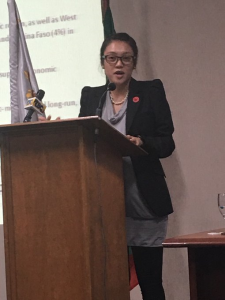 The seminar "Climate Diplomacy, Leadership and Negotiations," held from 11 to 14 August and attended by ministers and officials, focused on enhancing the capacity of the CVF to collaborate and advance the collective agenda of countries highly vulnerable to climate change at international and domestic levels.
Dr James Fletcher, former Environment Minister of Saint Lucia, who played a key role in the inclusion of the 1.5°C temperature limit in the Paris Agreement, spoke of the crucial role that Small Island Developing States and other vulnerable countries played in securing this outcome.
Senior Legal Expert MJ Mace outlined recent research which shows stark differences in climate change impacts between 1.5°C and 2°C of warming and stressed the feasibility of the 1.5°C limit, while climate finance expert Mahlet Eyassu Melkie addressed financing ambitious climate action in vulnerable countries.
During the following high level event on 15 August, Climate Analytics Science Director Dr Michiel Schaeffer and researcher Jessie Granadillos presented the findings of a new report, the Low Carbon Monitor, which highlights the benefits of achieving the 1.5°C temperature limit of the Paris agreement.
The report emphasises that a difference of 0.5°C in global average temperature has enormous repercussions for the world's physical environment and for the frequency and severity of climate change impacts.
Limiting the temperature increase to 1.5°C, compared with 2°C, would reduce expected heat wave spells for tropical developing countries worldwide by about one third. It would also lower the risks of reduced yields of key crops, and substantially reduce the forecasted increase in extreme rainfall downpours and associated flooding.
The research also indicates that limiting the rise to 1.5°C can help avoid a substantial loss to the global economy by 2050.
The Low Carbon Monitor report will be launched in September 2016.
The CVF is an international partnership of countries highly vulnerable to a warming planet. The Forum serves as a South-South cooperation platform for 43 governments to act together to deal with climate change. The CVF, previously chaired by the Philippines, is now led by Ethiopia.