Efforts by a judge of the Federal High Court in Bayelsa Division, Hyeladzira Nganjiwa, who is currently facing trial over alleged unlawful financial enrichment before a Lagos State High Court in Igbosere to secure leave to travel abroad for training, failed on Wednesday, July 19, 2017.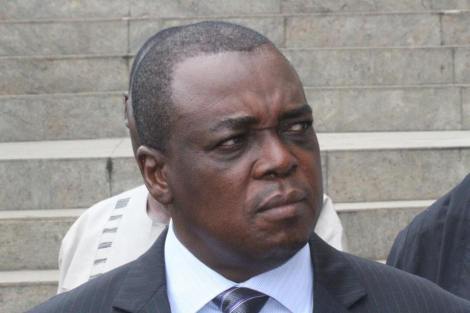 This was as a result of the inability of the prosecution to receive service of the application.
The court could not hear the application. The applicant alleged that Economic and Financial Crimes Commission (EFCC) refused service.
The motion filed before a vacation judge, K. O. Dawudu and slated for hearing on Wednesday, could not go on, as the counsel to the defendant, I. B. Mohammed, informed the court that the EFCC refused service.
Nganjiwa was earlier arraigned on June 23, by the EFCC, on a 14-count charge bordering on unlawful financial enrichment to the tune of $260,000 and $8.7 million (approximately N81.7 million).
He pleaded not guilty to all the 14 counts preferred against him by the commission.
His counsel, Mohammed, also told the court that the Court Sheriff went to the office of the EFCC on July 19, as ordered by the court to serve them with the hearing notice, but the officer at the agency's legal department refused service and said: "Except he is given an instruction by the prosecutor handling the case, he can not accept service."
The counsel stated further: "From what the Sheriff of the court, Ahmed Olakunle, told me, he said the officer he met at the legal department had a phone conversation with the prosecutor and after which, he told him that he can not accept the service except he is instructed by the prosecutor.
"The Sheriff went with our earlier original proof of service dated July 12 on the EFCC."
The defendant (Nganjiwa) according to the ruling by Justice Adedayo Akintoye on June 23 was to deposit his passport with the court registrar within seven days and he was granted bail on self-recognisance as a serving judicial officer.
But, in his response, Justice Dawudu ‎said: "I will give them the opportunity to come, for the hearing of the motion dated 12 July. I hereby order that hearing notice be served on the respondent."
By Chinyere Obia