In a recent edition of 'Science', U. S. President Barack Obama writes in the journal's Policy Forum, where he lays out why renewable energy investments will surge in the future regardless of political headwinds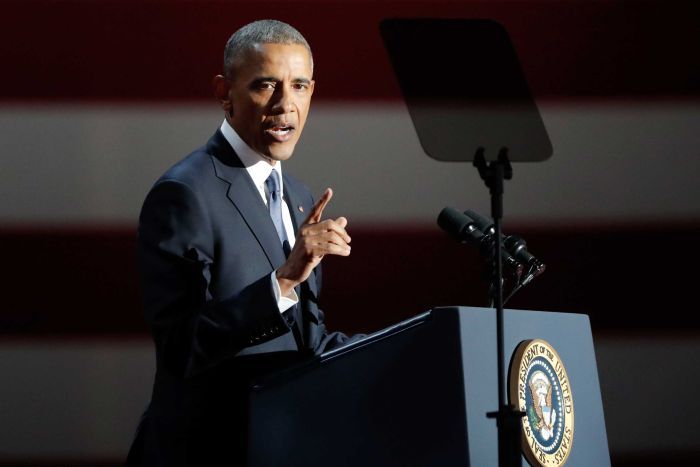 Some luminaries take good-bye tours by traveling around the world, stopping in all the hip cities and waving to crowds. President Barack Obama publishes in leading academic journals.
Already in the past year, articles by him appeared in the Journal of the American Medical Association, the New England Journal of Medicine, and the Harvard Law Review. Now his byline appears in another journal: Science. This week, the outgoing president published his first article in the journal, a Policy Forum essay in its magazine section stressing his belief that clean, renewable energy will flourish in the coming years.
"The business case for clean energy is growing, and the trend toward a cleaner power sector, can be sustained regardless of near-term federal policies," Barack Obama wrote. "I believe the trend toward clean energy is irreversible."
Transition Tension
This is the first time a sitting president has published an article in Science, according to the American Association for the Advancement of Science, the journal's publisher.
The article comes at a tense time for scientists and policy makers, interested in renewable energy and combating climate change. In December, President-elect Donald Trump's transition team sent a memo to the Department of Energy, asking for the names of any federal employee who had worked on a climate change-related issue. Scientists in federal institutions like the National Oceanic and Atmospheric Administration, have started copying their scientific data to personal servers in fear that newcomers will wipe their data.
Despite the fears, "the mounting economic and scientific evidence leave me confident that trends toward a clean-energy economy that have emerged during my presidency will continue,"Barack Obama wrote.
Growth and Sustainability
The president lays out several reasons why he remains confident in the future of renewable energy in the United States. He notes that, between 2008 and 2015, while the economy grew by more than 10%, carbon dioxide emissions fell by 8%, so "the argument that combating climate change requires accepting lower growth or a lower standard of living" should be "put to rest."
Globally, Barack Obama notes, the International Energy Agency estimated that the world's economy grew in 2015, while energy-related carbon dioxide emissions stayed flat.
"Regardless of the inherent uncertainties in predicting future climate change and weather patterns, the investments needed to reduce emissions will be modest in comparison with the benefits from avoided climate-change damages," Obama wrote.
Markets Speak
In the United States, electricity is the country's largest source of greenhouse gas emissions, at 30%, with 70% of those emissions coming from burning coal. Obama noted that less expensive production techniques have spurred the growth of the natural gas industry, a lower emitter of greenhouse gases. The fuel now generates 33% of U.S. electricity, compared to about 21% in 2008.
Other renewable energy technologies, like solar and wind, are quickly becoming less expensive. The cost of electricity from wind and solar photovoltaic installations fell 15% and 54%, respectively, between 2008 and 2015, Obama wrote.
Nancy Pfund, a founder and managing partner at DBL Partners in San Francisco, Calif., which has invested in solar power company SolarCity and Tesla, recently told the New York Times, "No longer is there a trade-off between what you believe in and what you can make money off of," referring to even politically conservative states that have invested in renewable energies.
Investors "are going to redouble their efforts to migrate their portfolios to a 21st century energy economy," she told the Times.
Global Leadership
Corporations have already lined up, behind President Obama's push for reductions in greenhouse gas emissions. In the summer of 2015, corporations like Apple, Google, and Coca-Cola pledged to reduce emissions.
In fact, Obama notes in the Policy Forum article that Google recently announced its plans, to power 100% of its operations from renewable sources. Walmart has also disclosed plans, to shift 100% of its energy use to renewable in the coming years.
Last, Obama stresses that the United States should continue investing, in the fight against climate change to remain a solid leader. Because of the Paris Agreement, more than 110 countries are now monitoring themselves – and each other – in these efforts.
"It would undermine our economic interests to walk away, from the opportunity to hold countries representing two-thirds of the global emissions – including China, India, Mexico, European Union members, and others – accountable," Obama wrote.
By JoAnna Wendel, Earth & Space Science News (EOS)