After the New Year break, the Federal Government may have some axe to grind with Nigerians if it goes on with its proposed sale of national assets to finance budgets.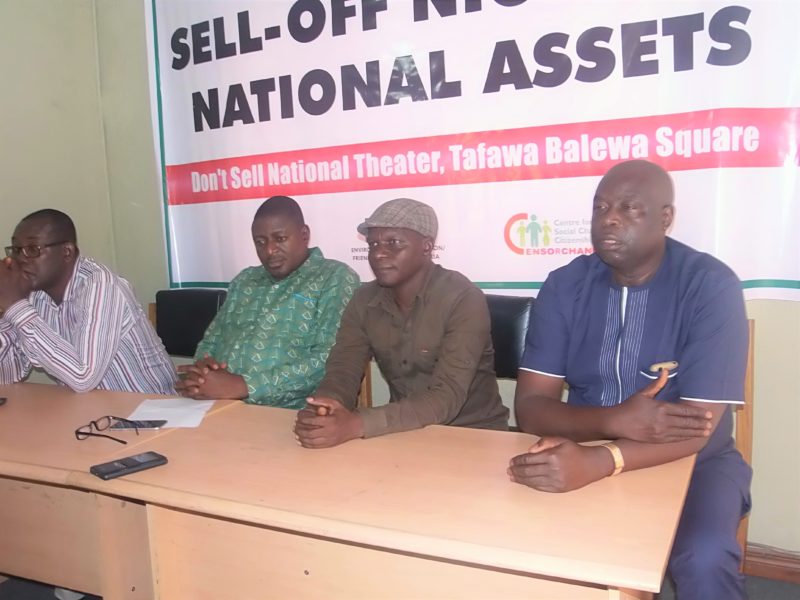 It will have to contend with different labour unions, associations and civil society organisations (CSOs) who have mapped out plan of action to stop the proposed sale of national assets.
The groups, including Amalgamated Union of Public Corporation, Civil Service Technical and Recreational Service Employees (AUPCTRE), Centre for Social Change and Citizenship Education (CENSORCHANGE) and Joint Action Front (JAF), made this known in Lagos on Tuesday, December 19, 2017 at a press conference anchored by the Environmental Rights Action/Friends of the Earth Nigeria (ERA/FoEN).
Ben Akabueze of the budget office had hinted that government would have to dispose of some national assets like the National Theatre, Iganmu, and the Tafawa Balewa Square (TBS), Onikan, all in Lagos, to fund national budgets from 2018 to 2020.
Urging government not to sell off Nigeria's national assets, the coalition vowed to mobilise Nigerians to ground the country, if government fails to hearken to their advice.
Deputy executive director of ERA/FoEN, Akinbode Oluwafemi, wondered what would happen when government has no more assets to sell.
"After selling the national assets, what else? Probably they would resort to selling citizens to finance budgets," he said.
According to him, even America, the capital of capitalism, cultural national assets and monuments are still preserved.
The national president of AUPCTRE, Benjamin Anthony, said the union "is against the sale of our national assets."
He noted that if the Federal Inland Revenue Service (FIRS) generated over N1 trillion in 10 months as reported and with the revenue from crude oil, "why should we be selling assets to fund budget?"
For him, Nigerian leaders believe strongly in corruption, otherwise "why don't they sell Railway?"
National secretary-general of AUPCTRE, Yusuf Zambuk, described the sale of national assets as prodigality.
He said with all the resources in Nigeria, human and material, how could a government not generate enough money to fund budget?
"If you have serious set of people in government, would they leave the old Federal Secretariat in Ikoyi to be rotting away?" he asked. "That can be converted to a hotel and generate capital therefrom."
Capitalism, he added, is about borrowing from banks to produce goods and make profit; "it is not about selling national assets."
Achike Chude of JAF, a coalition of about 25 CSOs, said the Nigerian government is peopled by a rapacious set with no interest other than theirs.
He lamented that "they have continued borrowing to finance budget deficit for over 25 years", adding that it is not sustainable.
Describing government's privatisation policy as assets stripping, he noted that "we have been complacent for over issues like this for too long. We need to properly mobilise because we believe we will win this war."
The pioneer chairman of AUPCTRE, Lagos chapter, Ayodele Akele, commended AUPCTRE, adding: "I am stigmatised across governments and I don't have any apology for that."
He vowed to mobilise as many groups as he could to join AUCPTRE in the agitation to stop the sale of national assets.
By Innocent Onwuji