UN Secretary-General, António Guterres, expressed his support for ensuring a just transition to clean energy in Africa, in remarks delivered on Saturday, February 18, 2023, to the African Union Summit, which is being held in the Ethiopian capital, Addis Ababa.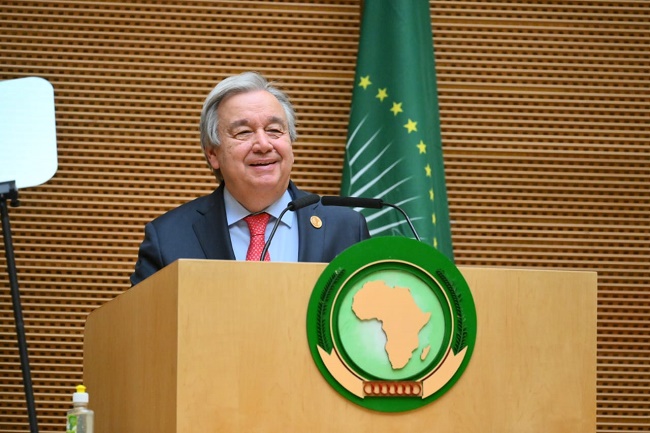 Mr. Guterres acknowledged that a transition to a clean energy future must address issues of energy access and development challenges, on a continent rich in fossil fuel sources, where millions are without electricity.
He said that, in order to decarbonise and develop, African countries need wider access to technologies such as battery-storage systems, components, and raw materials.
A "tidal wave of support" from developed countries is needed, he said, to match the leadership shown by several countries on climate issues; he cited Kenya's green economy strategy, efforts to protect the tropical forests of the Congo, South Africa's Just Transition Energy Partnership, and the AU's ambitious Green Stimulus Programme.
This support, continued Mr. Guterres, must include delivering on a fund for the losses and damage caused by the crisis, a doubling of adaptation finance, and ensuring that every country has early warning systems in place, affording protection from extreme climate shocks.
On the subject of peace and security, Mr. Guterres noted that the UN's role is becoming more complex each year, with more conflicts, terrorism, and insecurity. He called for a more flexible and efficient system, as outlined in the UN New Agenda for Peace, which is aimed at reinforcing the Organization's peace missions.
This new agenda, explained the Secretary-General, needs to link peace to sustainable development, climate action, and human rights, with a greater participation of women and youth.
Mr. Guterres concluded by expressing his hope that the Twenty-First Century could be Africa's century, and the determination of the UN to work with each African country, in order to free the continent's enormous potential, and overcome the obstacles that are blocking its path.
Following his speech to the Summit, Mr. Guterres announced in a press conference that the UN will allocate $250 million from its Central Emergency Response Fund (CERF), to combat famine and to address underfunded emergencies.
This is the largest ever CERF allocation, and it comes in response to a 25 per cent increase in the number of people in need of humanitarian aid, which stands at some 339 million. 12 of the 18 countries to receive funding are on the African continent.
The resources will support some of some of the most vulnerable people in some of the most forgotten crises around the world.
His words on climate crisis:
The ties between the African Union and the United Nations have never been stronger.
But I also recognise the enormous tests that Africa – and indeed our world – is facing on virtually every front.
I recently addressed the UN General Assembly on the multiple, inter-linked challenges confronting our world – greater than any in our lifetimes.
In many ways, the people of Africa are bearing the brunt of these crises.
A morally bankrupt global financial system that is failing developing countries when they need it most.
A cost-of-living crisis – exacerbated by the Russian invasion of Ukraine.
Climate chaos – that the people of Africa did very little to cause that is whipping up floods and deadly droughts, putting communities and lives at risk and displacing millions.
And peace and security threats often involving interests – and profits – far beyond the continent's borders.
Africa needs climate action.
The brutal injustice of climate change is on full display with every flood, drought, famine and heatwave endured on this continent.
The countries least responsible for the crisis are feeling its most devastating impacts.
Meanwhile, several African countries are demonstrating strong leadership on climate.
This includes Kenya's green economy strategy, the effort to protect the tropical forests of the Congo, South Africa's Just Transition Energy Partnership and the AU's ambitious Green Stimulus Programme.
The world must decarbonise.
But we need to ensure that the transition to renewable energy is a just transition – one that addresses Africa's energy access and development challenges.
This includes wider access to technologies like battery-storage systems, components and raw materials.
The upcoming Regional Electric Batteries Value Chain Initiative hosted by DRC and Zambia is a good example of the kind of effort required to find solutions.
But all these efforts must be matched by a tidal wave of support from developed economies.
They must deliver on the $100-billion promise to developing countries.
Deliver on the loss and damage fund agreed to at the last COP.
Deliver on doubling adaptation finance.
Deliver on replenishing the Green Climate Fund.
And deliver on plans for early warning systems to protect every person in the world within five years – including the six in 10 Africans who lack these systems.
In September, I'll convene a Climate Ambition Summit on our pathway to COP28 in December, where governments, business and civil society will demonstrate their commitment to reach net zero.
And I'll keep pushing for a Climate Solidarity Pact that mobilises financial and technical support to accelerate emerging economies' transition to renewable energy and keep the 1.5-degree goal alive.