Ministers from the Least Developed Countries, after putting forward their countries' own ambitious commitments, called for governments to ramp up action on climate change at Thimphu Ambition Summit.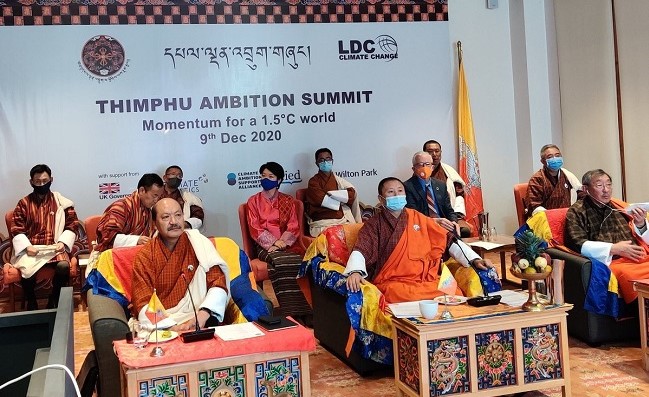 Opening the session, Dr. Lotay Tshering, Prime Minister of Bhutan, said: "As we venture into an era of new normal, I see many opportunities to deliver strong and sustainable climate responses that will ensure not just the health of our people and the economy, but also that of our mother planet. We must ensure reduction of global greenhouse gas emissions by 50% in the coming decade through green recoveries."
This sentiment was echoed by Sheikh Hasina, Prime Minister of Bangladesh: "As governments start to reactivate their economies after the COVID-19 lockdown, we have to make sure that national recovery packages significantly support climate-friendly investments."
She went on to say that countries must integrate in green recovery programmes: raising ambition to meet the 1.5 degree goal; making all finance flows consistent with low greenhouse gas emissions pathways, including the delivery of the $100 billion climate finance goal; and creating climate resilient development.
Dr. Tandi Dorji, Bhutan's Minister of Foreign Affairs, spoke of the lessons that can be learned from the response to the global health pandemic, saying: "Crises come in many forms. The way we respond should not. We've seen that swift and bold movement is both possible and necessary. In response to this global pandemic, governments have taken rapid action at scale, mobilised vast public resources and responded to the science. Individuals have changed their behaviour to minimise the risk for others. It's clear that early and informed action saves lives, reduces costs, and minimises impacts.
"Least developed countries understand that, for addressing the climate crisis, the time for coordinated and rapid action at scale is now. If our acts are put together, a better world and a safer future for all is possible."
"There was a resounding call for governments to address the climate crisis with greater urgency. If we work together, we can still achieve the goals of the Paris Agreement and secure a better future for everyone. But we have to act now." said Sonam P. Wangdi, from the Kingdom of Bhutan, who Chairs the Group of the 46 Least Developed Countries at the UN Climate negotiations.
"At the Summit we heard of both the great challenges that the climate crisis is bringing to least developed countries, but also the opportunities that climate actions present for sustainable development efforts. One of the key messages that came out of the Summit was that cooperation is key to addressing the climate emergency. Increased finance for supporting poor countries to take climate actions will be vital," Wangdi added.
He continued: "We heard from a broad range of high-level speakers, and they all agreed that we cannot delay action on climate change any longer. It is crucial to see increased short term actions between now and 2030 that close the ambition gap. This isn't the time for small steps to be taken. It's the time for transformative changes across all aspects of society and for shifting financial flows to align with low-carbon, climate resilient development pathways that will ensure global warming does not exceed 1.5°C."
The 10 LDC Ministers who gave ambition statements at the event confirmed their governments are working on updating their existing national climate plans under the Paris Agreement.
For example, Eang Sophalleth, the Secretary of State of Cambodia's Ministry of Environment, announced that Cambodia's new NDC, which will be submitted by the end of the year, will include a more ambitious emissions reductions target of 34% by 2030 (compared to 27% in its initial NDC).
In a video statement making the announcement, he said: "Through the global crisis in recent months, we have seen how interconnected our economies and societies are. We must work together to achieve low carbon growth, but also to strengthen the resilience of our economies and to protect the most vulnerable among us."
Similarly, Shakti Bahadur Basnet, Nepal's Minister of Forest and Environment, announced that Nepal has just submitted an enhanced NDC and is working on an ambitious long-term strategy to reach net-zero by 2050, based on the availability of international finance and technical support.
He said: "Nepal strongly believes that the world needs to come together to limit global temperature rise to 1.5°C and significantly reduce global emissions over the next decades. The gap between this goal and existing commitments made under the Paris Agreement is alarming and needs to be addressed."
UN Secretary General, António Guterres, said: "It is clear that climate change drives and deepens inequalities across and within countries. Fighting climate change is a matter of social justice. We need to use the recovery from COVID-19 to put us back on track to achieve the sustainable development goals and to win the battle against climate change."
On climate finance, Mr. Guterres added: "We need developed countries to fulfil their climate finance commitments. That includes the decade long goal of mobilising $100 billion a year for mitigation and adaptation. We are not there yet."
COP26 President Designate, Alok Sharma, said: "I would like to thank all those countries who announced enhanced NDCs today for your commitment to tackling climate change. I hope this opens the door to increased ambition from around the globe at this week's Climate Ambition Summit, and ahead of the COP26 climate conference in Glasgow next year.
"I look forward to continuing to work closely with Bhutan as Chair of the LDC Group, to drive global action ahead of COP26 to help the world's most vulnerable countries who disproportionately suffer from the impacts of climate change."
Addressing the Summit, the Executive Secretary of the UN Framework Convention on Climate Change, Patricia Espinosa, said: "If nations delay yet another five years to table stronger plans, our window of opportunity will likely be closed. I remind all nations that submissions of NDCs in 2020 are key elements in the Paris Agreement process."
Speaking about the importance of climate finance, she added: "Truly honouring the Paris Agreement as we approach its 5th anniversary means honouring all commitments under it. Speaking of commitments, we know that multilateralism is only as solid as the trust it's built upon, and trust can only be established when mutual pledges are kept. Nowhere in our process is this more important than the mobilisation of the $100 billion commitment by developed to developing nations… The finance commitment is a central element for success in the climate agenda."
On Saturday, December 12, 2020, the UN Secretary-General and Prime Minister of the United Kingdom will co-host "The Sprint to Glasgow" to mark the fifth anniversary of the Paris Agreement. Dr. Tandi Dorji, Bhutan's Minister of Foreign Affairs, said: "We appeal to all countries attending the "Sprint to Glasgow Summit" on December 12 to raise your voices in affirmation of the Paris Agreement and to announce new ambitious NDCs, net zero plans and commitments of support to the most vulnerable."
Said to be among the most vulnerable to climate change, hit hardest by its impacts and the added challenges it brings to sustainable development efforts, the 46 Least Developed Countries recognise the importance of urgent, scaled up climate action all too well, according to Wangdi.
"It is in this context that – even in the midst of a global health pandemic, which has paused many things but has not slowed climate change – the Least Developed Countries Group virtually convened the Thimphu Ambition Summit, to build political momentum on climate action for a 1.5°C world," he said, adding:
"The Summit showcased LDC leadership on climate action; made a clear call for countries to submit updated national climate plans by the end of the year that are in line with the goals of the Paris Agreement; demonstrated the need for the international community to scale up the level of finance provided to support vulnerable countries to address climate change; and identified post-COVID recovery options aligned with inclusive and green economic development pathways."