Stakeholders in the environment and health sectors gathered in Lagos recently to discuss and make inputs in research findings related to climate change-related challenges.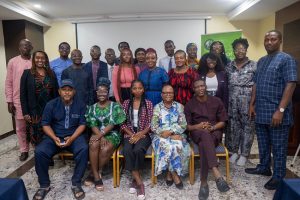 The Lagos Dialogue and Workshop on the MECCA Project hosted by SustyVibes in collaboration with partners in Lagos on Wednesday, May 9, 2023, served as a briefing of the available data on "Targeting Mental Models of Climate Change risk to facilitate Climate Action".
The data, which consisted of report findings from Lagos, the West African case study of the MECCA project, was prepared by Dr Charles Ogunbode of the University of Nottingham with contributions from Dr Karlijn van den Broek of Utrecht University and Dr Stefan Liersch of the Potsdam Institute for Climate Impact Research.
The MECCA project aims to assess and investigate climate change risk perceptions among residents of vulnerable coastal areas in East Africa and Lagos, Nigeria. It also involves mapping mental models of climate change mitigation and adaptation processes among experts, community groups, and other stakeholders in the study areas. The goal is to co-create knowledge that will assist policymakers in making appropriate decisions to address the effects of climate change in various parts of Africa.
Dr. Usman Isyaku, one of the research team members, spoke on stakeholder engagement and local collaboration. According to his reports "the stakeholders involved in the project were at the federal government (of Nigeria), state (Lagos) and local levels". He listed some of the challenges faced during the course of the project to include "bureaucratic delays in getting approval for experts' interviews, non-compliance by some government agencies, and non-approval of secondary requests for hydrometeorological data".
Dr Charles Ogunbode, one of the speakers, explored climate change risk perception in Lagos State. He stated that the MECCA project was looking for an up-to-date study of how people perceive climate change risk in Lagos, as well as how these perceptions link to people's behaviour.
To address this, the research team conducted a survey of 1,997 Lagos residents between February and March 2022. Participants were approached at random in their homes, workplaces, or other convenient locations, with the goal of recruiting roughly 100 people from each of Lagos' 20 local government areas (LGAs).
From the results of the survey, he concluded that people in Lagos appear to have a moderate level of risk perception regarding climate change. On average they think that there is moderate to high likelihood that they will be individually or collectively harmed by climate change during their lifetime, but they do not consider the climate change threat to be particularly severe.
About a third of the people are undecided about whether it is easy or difficult to take personal and collective action in response to climate change. Overall, slightly more people think it is difficult to act than those who think it is easy.
From these reports Dr Charles concluded that "Local environmental knowledge and public risk perceptions can be scientifically incorrect and environmental education, risk management, and climate change communication strategies are urgently required".
Lagos is a coastal megacity with high vulnerability to climate change and a large population of residents. The MECCA project explores mental models of climate change risk to facilitate climate action in the city.
Working with Lagos as a case study, the researchers were able to identify adaptation and mitigation strategies by analysing the gap between stakeholders' perceptions of change and risk and the projected impacts of human activities under changing climatic conditions.
MECCA is a consortium of social and natural scientists and a wide network of local stakeholders in West and East Africa. The consortium comprises researchers from the University of Bergen, Utrecht University, and the Potsdam Institute for Climate Impact Research, and is coordinated by the Copernicus Institute of Sustainable Development at Utrecht University.
By Inioluwa Simire