Property developers, suppliers and owners recently got the opportunity to showcase their best projects and services from across sub-Saharan Africa at the Africa Property Investment (API) Awards held on Thursday, August 24, 2017.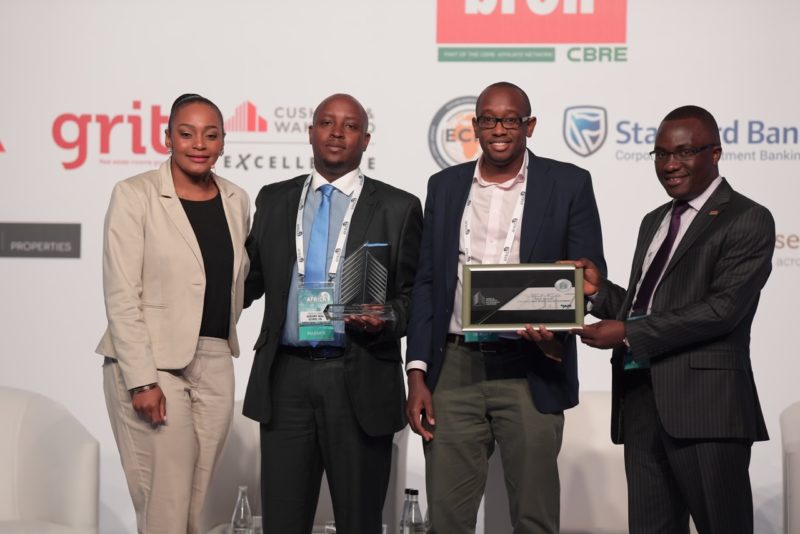 The awards, which were held at the API Summit and Expo 2017 in Johannesburg, South Africa, recognised innovation and outstanding achievement across the entire property industry in seven categories. The categories include Best Retail Development, Best Mixed-Use Development, Best Commercial High-rise Development, Best Architectural Design, Best Green Building in Sub Saharan Africa, Best Hotel Development and Best Housing Development. The winning developments came from Ghana, Kenya, Nigeria, Mozambique, Namibia and Rwanda.
The projects were judged on a wide range of criteria including location, infrastructure and transport access, integration into the environment, originality of the concept, technical and architectural quality, services offered, sensitivity to the local community, innovation, sustainability, corporate staff involvement, response to market demands, financial performance, occupancy, and the impact of the project on economic convergence.
The calibre of entries was world class and the judges had a challenging time selecting the winners, nevertheless they managed to hone in on the best projects. Here are the winners for each category from the 2017 Africa Property Investment Awards.
Kfir Rusin, Managing Director of API Events, said: "We congratulate all the winners and finalists as well as their respective project teams. They have set an exceptionally high standard for real estate developments across sub-Saharan Africa and continue to shape the African built environment landscape. API Events is proud to be associated with these companies and wishes to aid in further pushing the boundaries of excellence for African property development."
Best Retail Development – Winner: Kumasi City Mall, Ghana – Atterbury (Developer) and Boogertman & Partners (Architects)
The 18,000 sqm Kumasi City Mall is the first one stop shopping destination for Kumasi in the Asokwa region of Ghana.  The project, developed by Atterbury, includes innovative features such as composite timber as cladding and breezeblock walls. The design stays architecturally sensitive to the region and includes green building features like natural ventilation, wastewater harvesting and LED lighting. The building was based on the African notion of gathering under the trees and as such is rooted within a Ghanaian forest analogy and the context of Kumasi.
Best Commercial High-rise Development – Winner: Accra Financial Centre, Ghana – RMB Westport (Developer)
The Accra Financial Centre offers 14,648m2 of prime office space in Accra Ghana. The project was developed in line with international health and safety requirements and includes sustainable features such as energy efficient lighting solutions, isothermally insulated cavity walls to help maintain internal temperatures that reduce the building's dependence on artificial air conditioners. The development includes a ground floor retail bank, nine floors of A-grade offices, ample parking and an additional 314m2 of retail space on the ground floor.
Best Mixed-Use Development – Winner: Kigali Heights, Rwanda – Kigali Heights Development Company (Developer), Fusion Capital (Financier-Kigali Heights), Century Real Estate (Property Managers – Kigali Heights)
The Kigali Heights Development comprises a world class office block with 12 750 sqm of Grade A office space, 5 250 sqm of prime retail space and 300 parking bays. The 18 000 sqm development was designed with flexibility and energy efficiency at its core. Kigali Heights features green building solutions such as solar powered lighting that augments the national grid and an in-house sewerage treatment plant both firsts for any commercial building in Rwanda. The development boasts a series of functional spaces which have a strong identity.
Best Green Building in Sub Saharan Africa – Winner: Garden City, Kenya – Actis (Developer)
Garden City is East Africa's first integrated residential, retail and office development. Set on 32 acres the development includes an approximately 45,000m2 shopping mall, over 200 residential apartments and 20,000m2 built-to-suit office space. Developed by Actis in line with the Kenyan government's Vision 2030 the project has sustainability at its core and features the largest solar paneled carport in Africa on the mall's rooftop parking area. The developer's vision was to create a "live-work-play" environment to cater to the community in the North-East suburbs of Nairobi.
Best Hotel Development – Winner: Strand Hotel, Namibia – DHK Architects (Architects)
The Strand Hotel has become a landmark in the seaside town of Swakopmund, Namibia. The development includes 87 luxury suites and 28 upmarket apartments, 610m2 promenade retail space, more than 1,000m2 of conference, business and banqueting facilities as well as 1,000m2 of health and spa facilities and a restaurant. The design of the hotel meets the requirements of the local heritage council and responds sensitively to the existing indigenous landscape. To avoid directly imitating the existing architecture a functional contemporary design approach was adopted resulting in a unique aesthetic.
Best Housing Development – Winner: Karibu Homes, Kenya – Karibu Homes (Developer)
Project Description: Karibu Homes is a leading Kenyan developer of mass market affordable housing with 1,000 homes currently under development. The developer has successfully delivered the first community of affordable housing in Nairobi having already completed Phase 1 of the project with 285 homes built and sold. Work on Phase 2 has started with 500 homes under construction. Since inception the development has had a significant systemic impact on the affordable housing ecosystem in general with both public and private institutions actively seeking to learn something from the development through site visits, panel discussions and scholarships.
Best Architectural Design – Winner: Torres Rani Towers, Mozambique – DSA Architects (Architects)
The Torres Rani Towers development in downtown Maputo, Mozambique is a two-tower structure that spans 775,000 sq. ft. The development includes office space, a residential tower of 181 furnished and serviced residences, a two-storey secured parking garage, and a retail area that will service both towers. Within the residential tower, 117 one-bedroom and studio units will be fully managed by Radisson Blu. Amenities include two swimming pools, a children's play area, restaurants as well as lounges and a state of the art gymnasium.