The Nigerian Erosion and Watershed Management Project (NEWMAP) has promised to resettle households of three communities in Anambra State that will be displaced in the course of rehabilitation on erosion sites.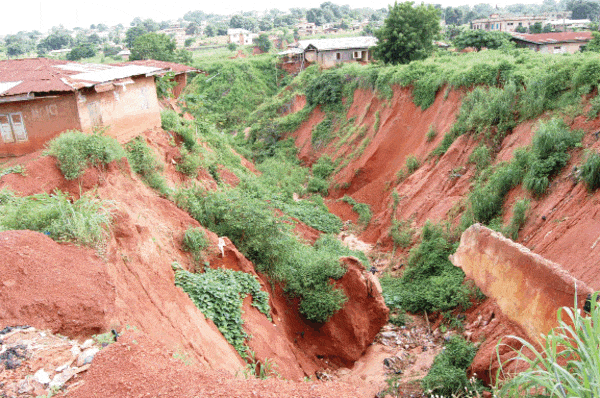 Dr Odili Ojukwu, a consultant to NEWMAP in Anambra State, gave the assurance on Wednesday, June 20, 2018 at a stakeholders' meeting held with representatives of the communities in Agulu, Anaocha council area.
Ojukwu listed the communities to include Agulu in Anaocha Local Government Area as well as Oko and Nanka in Orumba North Local Government.
The meeting was titled "Preparation of Environmental and Social Impact Assessment (ESIA) and Resettlement Action (RAP)".
According to him, the process of registering people with genuine claims is ongoing, and enjoined the affected people to register.
He said that people expected to register were those whose property, economic trees, farmland and other valuables would be damaged when the civil works begin.
The consultant urged the people to get involved in the entire gamut of the project as it was their own and not a "government thing".
"This consultation is meant to ensure that no one is left out in our resettlement plan, those whose valuables will be affected during control works should endeavour to register with us.
"People with genuine claims will be commensurably resettled, this is your project, you must take full ownership, it is not the usual government thing because you will still be with the people that will live there," he said.
In his remarks, Dr Emmanuel Okafor, Permanent Secretary in the Anambra State Ministry of Environment, said the state government was determined to bring lasting solution to the erosion menace in the state.
Okafor, who is also the chairman of NEWMAP Technical Committee, said the engineering design of the project had been approved by the World Bank and the counterpart funds fully paid by the state government.
He said all was set for the commencement of the rehabilitation and urged the people to ensure maximum cooperation with World Bank, the state government and the rest of the team when work began.
Mr Ikeobi Ejiofor, Chairman of Anaocha Council Area, expressed delight that reprieve had finally come their way and called for quality of job that would address the menace sustainably.
Ejiofor said the three communities were united in their common challenge and would render maximum support to ensure that the project succeeded.
"What we need is value for money because we have never come this close to solving the problem.
"Agulu, Oko and Nanka, are good neighbours and are willing to work; we want the work completed in record time," he said.
Chief Damian Okeke, Chairman of Nanka Erosion Committee, said he was hopeful that this new move to control erosion would be a departure from the previous ones.
Okeke, who is also chairman of Ohanaeze, Anambra chapter, said over 1,000 families in Nanka had lost their ancestral land to the erosion while no fewer than 500 lives had been lost to the menace.
He recalled that previous attempt had been made around 1940 by the colonial masters, 1983 by former Presidents Shehu Shagari in 1983 and Goodluck Jonathan in 2014 but without success.
"It is a welcome development, Nanka community welcomes it, we see hope because we have lived with it for a long time.
"We have been hosting government and international visitors with respective to this erosion since 1940s but this the first time we are seeing high level of commitment, we thank World Bank and Anambra State Government.
"What we want is to save what is left for us, so we are fully ready to cooperate with them," he said.
In his remark, Mr Mike Ivenso, Project Coordinator of NEWMAP in Anambra State said the project would be executed according to best international standards.
Ivenso represented by Mr Emeka Achebe, Head of Communications in NEWMAP said there would be constant engagements with the affected communities to ensure that their livelihood were normal during and after the control works.
"You can be assured of best of everything, contactors, supervision, social and environmental practices while the project lasts," he said.
Prof. Laz Ekwueme, Igwe Innocent Obodoakor, traditional rulers of Oko and Agulu respectively, Presidents General of the communities, civil society and other representatives were part of the meeting.