World Heavyweight Boxing Champion, Anthony Joshua, is set to embark on a three-day visit to Nigeria in August, 2017.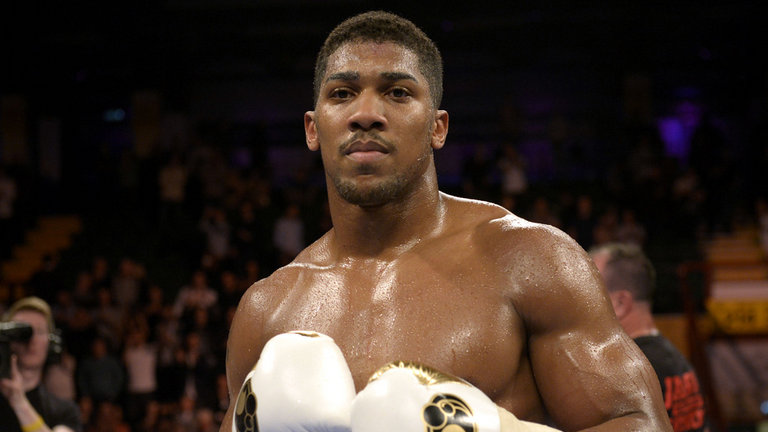 During the visit, he will pay courtesy calls on Acting President Yomi Osinbajo and the Governors of Lagos and Ogun states, Akinwunmi Ambode and Ibikunle Amosun respectively.
He will also visit some royal fathers including the Ooni of Ife, the Awujale of Ijebu-Ode and the Oba of Lagos, and attend a charity boxing match.
He will also inspire Nigerians at the Eko Hotel in Lagos and the Transcorp Hotel in Abuja, where he would take questions from the audience.
Organiser of the 3- tour, Kumeni Bukari, said in a statement that arrangement have been concluded for the home coming of the boxing champion.
Meanwhile, boxing legend Floyd Mayweather is set to make a return to the boxing ring on August 26, 2017. Mayweather will take on mixed martial arts icon, Korner McGregor, in Las Vegas, Nevada, USA.
The bout has been touted to be one of the most brutal fights in the history of boxing.
In order to stop racism at match venues, the world football ruling body, FIFA, has given powers to referees to stop and abandon games, if they witness any discrimination from fans.
This move is expected to commence in this year's Confederation Cup and FIFA will deploy anti-discrimination observers to venues.
The measure, according to FIFA, is part of its "three-step procedure" which gives officials the power to stop, suspend and then call off fixtures over fan behavior.
"These are ground – breaking changes in the fight against discrimination.
"Both initiatives are extra tools for the referees and match officials, to prevent discriminatory attitudes and ensure that the atmosphere in the stadium is one of Fair Play and respect," explained FIFA President, Gianni Infantino.
The 2017 Confederation Cup is the 10th edition of the international tournament, which is contested by the holders of the six regional championships, along with the World Cup holder and the host nation.
As hosts of the 2018 World Cup, Russia will also host the 2017 event.
FIFA's game observers are a continuation of the monitoring system it put in place for 2018 World Cup qualifiers and selected friendlies.