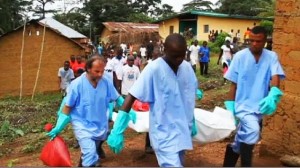 An American doctor who contracted the dreaded Ebola virus disease by treating victims of the deadly virus in Liberia, has been discharged from a U.S. hospital after receiving treatment.
With an experimental drug, his charity said on Thursday.
The doctor, named Kent Brantly, was one of the two American health workers being trated with ZMapp, a trial drug used on a handful of patients in the West African outbreak and flown to the United States this month.
The charitable organisation Brantly worked for in Liberia, Samaritan's Purse, in a statement, said he was released from Atlanta's Emory University Hospital today.