As part of its efforts to address growing public concerns about the country's epileptic power supply, the Renewable Energy and Energy Efficiency Association Alliance (REEEA-A) has announced nine winning solutions that could help address barriers and increase investment in the country's clean energy sector.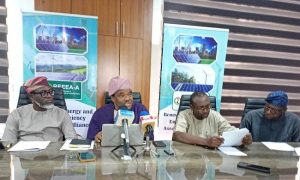 Some of the innovative solutions put forth by the group, which are consistent with those found in a recent joint study by the World Economic Forum (WEF) and the REEEA-A, include funding more projects with the Naira, leveraging to support the expansion of community-based developers for off-grid communities, and policy recommendations to foster social acceptance of Nigeria's use of natural gas as a transition fuel.
Others comprise utilising the Electricity Act to engage the 36 states for integrated electricity to meet their needs, revenue assurances to support and fund large-scale solar projects, payment mechanisms to support clean energy expansion, and acceleration of investment in the emerging green hydrogen space.
The newly elected President of the Governing Council, Professor Magnus Onuoha, announced the plan at a press conference on Wednesday, July 26, 2023, in Abuja, lamenting that the current situation, in which over 200 million Nigerians rely on 3,500 megawatts, is extremely deficient and calling for more tenacious measures to ensure meaningful changes.
"Every year, Nigeria spends $20 billion on petrol for generators; that is an investment that is just waiting to be catalysed by the energy sector," he said.
According to him, with President Bola Tinubu's signing of the new Electricity Act, the need to change the status quo has become imperative, as epileptic power supply has slowed developmental progress and killed many businesses that rely on power.
He elaborated that, on a global scale, renewable energy has been identified as the most proactive option to address the issues of electricity instability at the moment, assuring that, with adequate financing, investment, and support from the federal government and all relevant stakeholders, a lot can be accomplished to move away from the current appalling electricity supply to renewable energy sources that are more sustainable.
Dr. Segun Adaju, Chief Executive Officer (CEO) of Consistent Energy Limited and a member of the alliance, promised that if REEEA-A's quick wins are implemented, Nigerians should begin preparing for real-life changes in the energy sector.
Another area where he urged Nigerians to expect rapid change is capacity development in the energy sector.
"This is something that we are going to be doing very strongly over the next year to support the new Electricity Act," he said, declaring that the exercise will be extended to state governments in order for them to be able to implement the act.
By Etta Michael Bisong, Abuja