The government of Ebonyi State in Nigeria has launched a process to develop a climate change policy and an adaptation action plan focused on agriculture.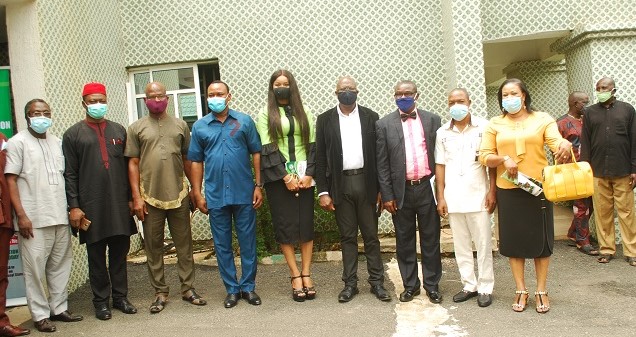 The development of the state climate change policy and adaptation action plan are to be spearhead by Professor Chukwumerije Okereke and Dr Robert Onyeneke, who are both of the Centre for Climate and Development at the Alex Ekwueme Federal University, Nufu Alike.
The policy development process was kick-started with a stakeholder inception meeting which held in Abakaliki, the state capital, on Monday, August 3, 2020.
The policy development, which is being funded by ActionAid International, Feed the Future Nigeria and the Ebonyi State Government, is being coordinated by the Senior Special Assistant to the Governor on Climate Change, Dr Obianuju Aloh.
The programme, meant to unveil the plan to develop the policy, was opened by the Governor of Ebonyi State, David Nweze Umahi, who was represented by the Deputy Governor, Dr Kelechi Igwe.
In an address, the governor made a clarion call to every Ebonyian to wake up to the fact that climate change is not a hoax and that the time to act is now. He noted that Ebonyi State was already taking steps to become one of the greenest states in the country through several actions including appointing a Senior Special Assistant on Climate Change, embarking on the development of renewable energy, promoting green transportation through the provision of electric tricycles, and embarking on massive planting of trees.
He affirmed that his administration would not step back in taking actions towards making Ebonyi State the model in Nigeria in terms of good environmental management and sustainable innovations.
Senior Special Assistant to the Executive Governor of Ebonyi State on Climate Change, Dr. Mrs. Obianuju Aloh, in her opening remarks, thanked the present administration for its unwavering support to her office and commendable effort to mitigate climate change and foster sustainable environment in the state.
Speaking further, she defined climate change adaptation as a major knowledge-intense and multi scale decision making problem that in several cases require a radical shift in the way the economy and society are organised to increase resilience or reduce vulnerability to climate change. While climate change policies and laws are guidelines formulated specifically to tackle climate change and environmental hazards to cub adverse effect of climate change.
Prof Okereke, a lead consultant, in his opening remarks, said he and his team at the Centre for Climate Change and Development were very proud to be helping the effort to position Ebonyi State as one of the frontrunning states in terms of the development of climate change policies in Nigeria.
He stressed that climate change is not a "white-man" issue but a phenomenon that posed a fundamental challenge to socio-economic development and the well-being of people in Ebonyi State and the entire country at large.
Drawing from his experience in developing a national green growth strategy for the government of Rwanda in 2010, Professor Okereke stressed that strong leadership and political will were necessary to make success of the policy especially with regards to implementation.
He urged the government of Ebonyi State and other relevant stakeholders including the NGOs and private sector players to synergise their actions to drive a climate resilient, low-carbon, sustainable growth in Ebonyi State.
At the technical section, Prof Okereke gave a presentation on the basics of climate science, noting that, as one of the most vulnerable countries in the world to climate change, it was not possible for Nigeria to attain her vision of strong economic growth and prosperity without a comprehensive action on climate change.
He opined that articulating ambitious and comprehensive, and smart climate policies at national and state levels was critical in achieving a sustainable, green economy and socially just economy for the country. He gave a rundown of the key steps in and guidelines to the drafting of a climate policy and briefly explained each step highlighted.
In another session, Prof Onyeneke spoke on the instruments for eliciting information for NGOs, CSOs and private sector operation. This, he used to guide the trainees on filling out the questionnaires distributed.
On behalf of the Action Aid Nigeria, a goodwill message was delivered by Mr. Azubike Nwokoye, the Food and Programmes Coordinator, Action Aid Nigeria. He expressed his organisation's readiness to support the green vision of Ebonyi State through capacity building towards eco-friendly innovations and sustainable agricultural practices in the state.
By Professor Chukwumerije Okereke