Volunteers at Health of Mother Earth Foundation (HOMEF) have called on countries to shift from dependence on fossil fuels and invest rather in agroecology as a key to restoring the Earth. The call was made at a convergence of the Foundation's volunteers to mark the World Earth Day 2021.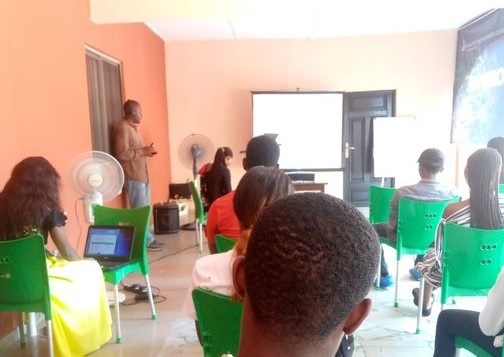 According to a statement from HOMEF following the convergence on April 22, "The celebration of Mother Earth, is a celebration of life, of earth-restoring practices and also a denunciation of practices that destroy biodiversity and life sustaining ecosystems across the globe."
The volunteers' convergence focused on "Biodiversity, Agriculture and Climate Change" and called for actions against practices such as the extraction of fossil fuels and industrial agricultural practices including the indiscriminate use of chemicals which are said to be destroying the earth.
Dr Daniel Ugwu, a lecturer at the Federal College of Agriculture in Ishiagu, Ebonyi State, speaking during the event highlighted the links between industrial agriculture and the environmental/climate challenges that the world is battling with. According to him, industrial agriculture does a lot of harm to the environment through intensive cultivation of dry lands and unsustainable use of resources such as water and fossil fuels.
He added that industrial agriculture contributes 25-30 percent of global greenhouse gas emissions; causes biodiversity loss due to the entrenchment of monocultures and heavy use of inorganic herbicides, pesticides and fertilisers which pollute soil and surface water, aquifers and coastal wetlands; and creates ecological imbalance.
The volunteers called for the adoption of agroecology as it combines local and scientific knowledge and applies ecological and social approaches to agricultural systems.
"Agroecology employs methods that minimise or exclude the use of fossil fuels, inorganic chemical inputs; is not based on large-scale mono cropping, but supports natural agricultural processes such as crop diversification, natural soil fertility and biological control of pests," they stressed.
According to Joyce Ebebeinwe, HOMEF's Programme Manager, agroecology is not just a science and practice but also a movement that emphasises the respect for and protection of the rights of farmers to save, share and reuse seeds.
After group discussions on how and why the need to restore the earth, the volunteers came up with "workable solutions".
Miss Tobi Wale, representing her group, first highlighted the challenges facing the Earth including the increasing global warming, biodiversity loss, species extinction (over 500 species at the brink of extinction), plastic pollution, and prevalence of diseases and pandemics.
Miss OduduAbasi Asuquo, also speaking on behalf of her group, stressed that the listed problems necessitate earth restoration activities because "we only have one Earth and action must be taken to ensure that it remains habitable for the present and unborn generations".
To close the knowledge gap on the importance of agroecology, the volunteers called for investment in research on agroecology, provision of adequate extension service to farmers, and formulation/implementation of policies that recognise and support agroecology as a viable solution to the food and climate challenges.
Besides the investment in agroecology and desisting from harmful industrial agricultural processes, restoring the earth can also be achieved through education that stops people from interfering with natural cycles; tree planting and development of gardens; enforcement of policies as well as fines and sanctions for harms against the earth; recycling/avoiding single use plastics and responsible use of energy.