The Benue Team Lead, Synergos, Mr Michael Agon, has emphasised the organisation's commitment in facilitating the continuous approach for the systems shift of agriculture in Nigeria and enlighten stakeholders on agricultural opportunities in Benue State.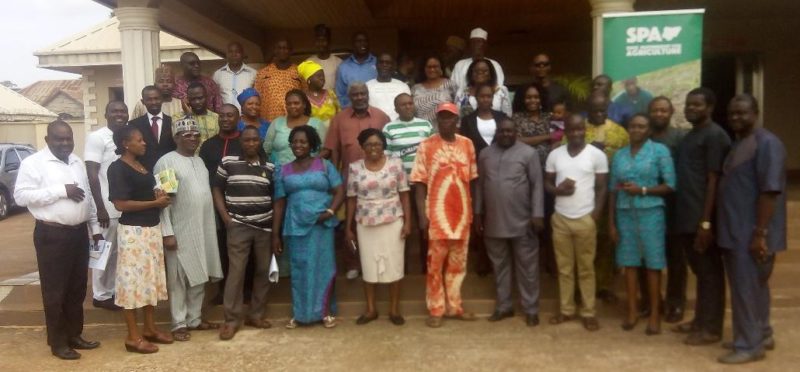 Making this known on Wednesday, October 25, 2017 at an Agricultural Visionary Group (AVG)/Agricultural Innovation Group (AIG) Stakeholders Meeting held in Makurdi, Benue State, he stated that they create a platform for exchange of ideas in order to enable stakeholders in agriculture make informed decisions.
He maintained that Synergos would continue to strengthen the agricultural system by establishing stakeholder working groups and building in the capacity of key public and private sector agricultural stakeholders to problem solve, mobilise resources, implement improvement initiatives in Benue State.
According to Mr Agon, as they try to find solutions to agriculture in the state, stakeholders need to look inwards and tap into many potentials in agriculture such as yam export trade which the state stands to gain big in the over $30 billion trade as Nigeria accounts for 75% of world yam produce, boasting of a spread of 60 varieties, with Benue having eight out of the lot.
Stressing further, the Team Lead stated that the Bill and Melinda Gates Foundation funded Synergos is poised to enhance agricultural opportunities in the country, hence, their training of aggregators in post-harvest farming to enhance crop handling processes among others.
Also speaking, a stakeholder and farmer cum Lecturer in the Faculty of Law, Benue State University, Makurdi, Mrs Mwuese Mnyim, stated that agriculture is a worthy venture and sustainable for livelihood.
Mrs Mnyim, who charged that Benue people must be at the heart of yam export in the country, added that they should cash in on the opportunity provided now with the commencement of export of the crop.
In his submission, Director, Agriculture Services, Benue State Ministry of Agriculture and Natural Resources, Mr Thomas Nongo, extolled the state governor for his effort in payment of counterpart funds for agricultural interventions which has developed agriculture in Benue.
According to Nongo, the state now has comparative advantage in agriculture in several crops, including citrus, yam etc and has actually reclaimed its food basket status.
By Damian Daga