African cities are forecast to urbanise at a rate of 3.65% annually, adding nearly 350 million new city dwellers by 2030, according to the Brookings Institution.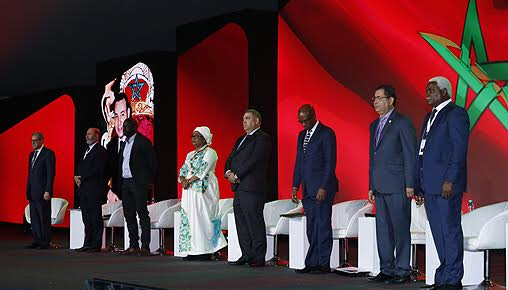 A billion more people are expected to be living in African cities by 2060, even as the continent's rapid urbanisation and its infrastructure challenges are said to be making life in its cities expensive and slow down economic growth.
How will cities be able to reconcile their need for resources and infrastructures with a desire to use less of it and improve quality of life for citizens? How can urban development be squared with the need to safeguard natural resources?
These are some knots delegates are seeking to untie as the 8th Africities Summit opened on Tuesday, November 20, 2018 in Marrakech, Morocco. The theme of Africities 8 is: "Transition to Sustainable Cities and Territories: The Role of Africa's Local and Regional Authorities".
Indeed, African local and regional governments want the continent to turn its back on ecologically irresponsible and socially unjust behaviour in favour of a concept that respects the balance of nature.
These sentiments were expressed by Soham Wardini, the Mayor of Dakar and President of the Africities Political Committee, as she reaffirmed the commitment of her African counterparts to achieving the unity and integration of the continent "from its territories and with respect for its diversity."
She said: "We are determined to work towards the emergence of an Africa reconciled with its humanity, drawing on its immense cultural reservoir to rebuild societies that respect the rights of all as well as the rights of future generations."
Wardini stressed the need for deep reflection, especially for locally and regionally elected officials who grapple with ecological emergencies daily.
"Similarly, we must take the time to exchange ideas in order to keep up with the issues and challenges, many of which are common to African cities," she suggested, while advocating for solutions from the community of African local authorities since, in her opinion, the antidotes to Africa's problems are homegrown.
The Africities 2018 Exhibition will be inaugurated on Tuesday, November 21. This will be followed by several sessions on, among others, "Campaign Mobilistion: African Cities without Children on the Street", "Design Issues for Local Governance", and "Sustainable Food Systems: An Issue for African Cities and Territories."
Africities is the flagship pan-African event organised by United Cities and Local Governments of Africa (UCLG Africa)), which is held every three years in one of Africa's five regions.
Its aims to address major issues based on the construction of the 2063 Vision for Africa as proposed by the African Union Commission.
The Summit will last until November 24 during which it looks to address various issues, including urbanisation, demographic, ecological, democratic, political, economic, social, cultural and communications transitions.