The African Charter on Human and People's Rights says that: "Human beings are inviolable. Every human being shall be entitled to respect for his life and the integrity of his person. No one may be arbitrarily deprived of this right." This is being violated in South Africa through the xenophobic attacks on Africans.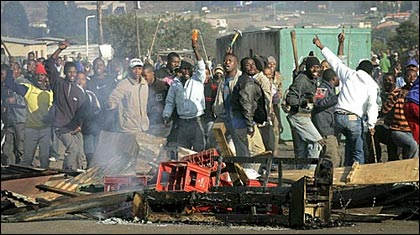 Solidarity has been one of the strongest values and strength for Africans. In this moment of pain and dismay representative of several African civil society organisations want to show their deepest solidarity to their brothers and sisters directly and indirectly affected.
"We empathise with families of those who died and we appalled by the lack of clear leadership in this dark moment from most of our African governments. We extend our sincere solidarity to all our people that are forced to be in unsafe and vulnerable conditions in the region and across the continent," says a representative from Mozambique.
African civil society organisations gathered in a conference in Maputo, from April 21-23 to build solidarity for climate justice and provide peoples solutions for the climate crisis. The conference, "Seeding Climate Justice", brought together more than 135 people from movements such as La Via Campesina, Friends of the Earth Africa, the Rural Women's Assembly, World March of Women, WoMining as well as people from local organisations from Mozambique, Zimbabwe, Zambia, South Africa, Botswana, Nigeria and Kenya.
As movements of Southern Africa and Africa they have a history of working together, organising common campaigns and building solidarity. "We have a common history of defeating and condemning apartheid. Together we have to defeat and condemn this scourge of xenophobia," said a representative from South Africa.
As Southern Africans, people live and share common territory, share the water, the oceans, the mountains and the bio-diversity – they are interdependent. But also share common cultures, histories and languages.
"It is our belief that the borders across the continent of Africa are nothing more than colonial constructs that have sadly been carried over and perfected by African governments. We want to reiterate that nobody is illegal and certainly no African is illegal on this continent," said a representative from Kenya. She further urge the governments of Africa and the people to support free movement and equal rights for all and unity between all.
"What we have witnessed with the deaths of African immigrants in South Africa and those crossing the seas heading to Europe is that African lives are disposable and we reject this fate. Open the borders and keep them open," she added.
Governments across Africa have a responsibility to assure citizens of their safety irrespective of where they choose to reside or to do business. In the same vein the African Union and the regional blocks such as the Southern African Development Community, the East African Community and the Economic Community of West African States have a duty to ensure the enjoyment of the right to life, freedom from discrimination and all rights enshrined in the African Charter on Human and Peoples' Rights. Anything to the contrary is an unacceptable abnegation of responsibility and a betrayal of our peoples, they argue.
The xenophobic violence in South Africa has, in the last six years, cruelly stolen the lives of hundreds of Africans and dislocated many thousands more. This violence towards other black Africans is deeply rooted in the colonial history of the SADC region, which created false boundaries between African peoples, and carved up our land and natural resources for the benefit of the colonists.
South Africa's apartheid history must also be blamed for fomenting tensions between different ethnic groups and tribes in South Africa and the region, and for the migration of African men into the deeply exploitative South African mining industry, a pattern which remains largely unchanged in post-Apartheid South Africa. The oppressive poverty and inequalities created in South Africa's past remain substantially unchanged for the majority of black South Africans now, and lie at the heart of this scourge of xenophobic violence.
The problem of xenophobia is not only a South African or African problem. It is a global problem linked to an economic and political system that keeps Africa and the majority of its people poor.
"As our land and minerals and natural resources are exploited and privatised, as climate change bites deeply and destroys our livelihoods, Africans migrate across these false borders in search of work and a better life, an elusive quest for the majority on this continent," said a representative from Botswana.