Thousands took part in multiple actions across the continent calling on its leaders to urgently address the multiple crises of climate change, COVID-19, recession, unemployment, inequality and poverty plaguing the continent.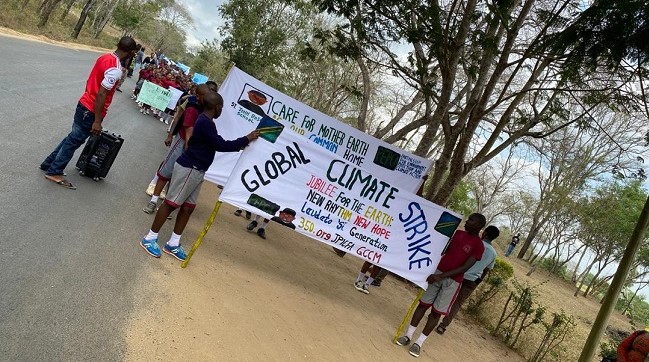 This was in response to the call from youth climate strikers for a Global Day of Climate Action on Friday, September 25, 2020.
Extreme weather events, such as floods and droughts driven by the climate crises are still common across the continent and the strikes are a reminder to those in power that the climate crisis has not gone away even as we fight COVID-19.
Last year, thousands of people took to the streets across the countries to demand climate action. Politicians and the media congratulated the youth and portrayed them as beacons of hope. However, with those same leaders' inaction, there has been little to celebrate, according to activists.
Climate science, they said, is clear that the world is on the brink of climate breakdown, and urgent action is required such as turning away from polluting and harmful fossil fuels.
"Unfortunately, it is not a reality that is being taken seriously by African leaders who continue pushing for large investments in oil, coal and gas; putting profit for the few over the well-being of the many as they have many times before," the campaigners stated.
Landry Ninteretse, Africa Team Leader, 350.org, said: "Just this year, millions of people across the continent have had to abandon their homes due to floods and it is also anticipated that 2020 will be one of the hottest years on record. COVID-19 is still here with us but so is the climate crisis, leaders across Africa need to take this opportunity to build back better.
"Today, Africa's youths are once again calling for climate justice consisting of transitioning away from fossil fuels and building climate resilient economies powered by renewables before it's too late.They are demanding a new normal that puts the wellbeing of people and climate action first, building a socially and environmentally just, zero carbon future."
Andre Moliro, Climate Justice Activist from Kinshasa, DRC: "Young people and school children around the world have been striking from school demanding climate justice. Demanding that their future not be condemned to the ravages of climate chaos.
"We shall not relent; we call on our African leaders to accelerate plans for making Africa free of oil coal and gas. Taking advantage of technological advancements that now make wind and solar far cheaper alternatives with the ability to create even more jobs for the youth."
Irene Asuwa, Woman Climate Champion with deCOALonize campaign in Lamu, Kenya: "COVID-19 is linked to the ecological crisis, as ecological degradation and climate change make pandemics more likely. It is therefore vital for decision-makers across the continent to ensure that the response to the pandemic also addresses the climate crisis and the existing inequalities that many Africans face especially women in rural areas. It is imperative that we leverage this moment to ensure a just recovery that builds resilience to crises and equality across the continent."
The climate youth movement was sparked by Swedish activist Greta Thunberg's solo protest in August 2018.