Developing countries, particular Nigeria, have been called upon to brace up with the challenges that come with urbanisation.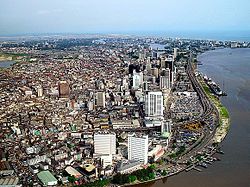 Dr. Alex Ezeh (Eecutive Director, African Population and Health Research Centre in Nairobi, Kenya) and Alhaji Waheed Kadiri (Chairman, African Planners Association) both shared this sentiment while speaking last week at the 2nd International Conference of the Department of Urban and Regional Planning, University of Lagos. The three-day event had "Urban transition in a dynamic world" as its theme.
Ezeh, in a presentation, said that urbanisation as part of human evolution has come to stay, and that the only solution to the challenges that will continue to accompany it is for government to brace up to tackle those challenges.
He stressed that, of all the regions in the world, sub-Saharan Africa has experienced the most rapid growth in population size over the past four decades and that the rapid growth is set to continue over the next four decades with the region's  population doubling to about two billion people by 2050.
The urban development expert added that while urban growth is associated with overall growth in socio-economic development and improved living standards, cities are seen and defined as centres of innovation, engines of growth and development. He described urbanisation as a consequence of development.
Pondering if African urban centres can be labelled an engine or incubator of development, he added that recent evidence from sub-Saharan Africa has questioned this long-held view of urban advantage in key development indicators.
According to him, an estimated 72 percent of urban dwellers now live in slums or slum-like conditions while poverty is growing among them, while the population of those living in poverty in urban centres now exceeds those living in the rural areas. He also alluded to the fact that health conditions among urban dwellers are now declining.
While proffering solutions to the challenges posed by urbanisation, Ezeh called on government to evolve a policy that will address issue of slums as the continent will find it difficult to compete with other nations with half of its population living in slums.
He clamoured access to land and provision of balanced infrastructure as well as addressing the issue of energy deficiency, while strengthening urban economies. "Most of the urban population in sub-Saharan Africa now engage in the informal sector which cannot move the continent forward. The government should invest in the productive sector of the economy," he said.
Ezeh called on policy makers to address the issue of unemployment and to restructure institutions of higher learning, adding that the tools being used in the learning process are outdated and cannot cope with the present day demand.
Kadiri, on his part, listed some of the challenges facing urbanisation in sub-Saharan Africa to include: growth without planning, growth without autonomous financing to sustain development, growth without employment base, urbanisation without urban governance structures, and growth without spatial boundaries, which he said portend a great danger if not tackled with realistic policies.
He said that the people must be involved in decision making and policy implementation, lamenting that urban centres now lack a governance structure. Kadiri warned that such a situation can lead to chaos if not urgently remedied.
While admonishing planners to take the issue of  the environment seriously, Kadiri, a former President of the Nigeria Institute of Town Planners (NITP), said that climate change has intense consequences on urbanisation, some of which he identified as flooding with attendant infrastructural collapse.