The African continent has been asked to urgently turn around its current attitude in the realms of climate change diplomacy and quit playing the victim game.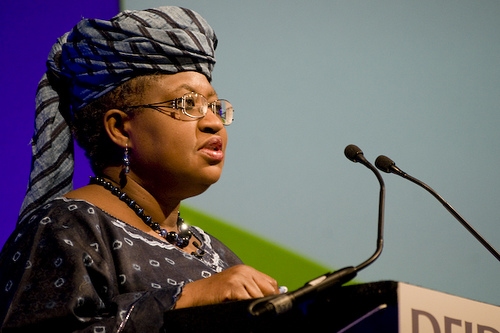 Mrs Ngozi Okonji-Iweala, member, Global Commission on the Economy and Climate, who made the submission on Monday (December 7, 2015) at the ongoing UN climate talks (COP21) in Paris, stated that, contrary to popular belief, Africa is the solution and not the victim.
She said: "We are not supposed to be going to the West to beg as victims. Rather, we should be telling them (the West) that the solution is in Africa. Our infrastructures are just developing and so we have the opportunity to build in a climate-friendly way and avoid the mistakes of the developed nations. So, we are actually the solution not the victim."
Okonjo-Iweala, a former Minister of Finance in Nigeria, underlined the need for a low carbon growth in Africa while also putting a price on carbon, a major component of greenhouse gases that is attributed to climate change.
"Almost three quarters of infrastructure that Africa needs are yet to be in place, meaning that the power we need, as well as the roads and the railway lines and coaches, we can still get (these infrastructures) and have them in a way that is friendly to climate change, that lowers emission and puts us on a low carbon growth path," she said.
She clamoured for private sector involvement in the process, adding: "We are looking at power. Look at renewables; we are not saying renewables should be everything because Africa should have a mix. We need to have a mix, we can still use gas to some extent, but we should increase the renewables. Our companies that are investing should look at off-grid solutions for our people before other people come into it because that is what always happens."
She went on: "Instead of flaring, we can use gas, we can convert this gas for our use and I know government has the power to do that. Then there are ways that you build the roads and the railway that uses technology that are climate friendly, that is really what I mean by all that."
She described the African Risk Capacity, an initiative of the African Union, as an insurance agency, in respect of which member countries pay an insurance premium.
Her words: "When you have weather event like drought or flood you join and pay a premium. This organisation has developed a module for three years with a grant from the Rockefeller Foundation and DFID. The module was developed using all the climate information over the years of all the countries; the module is now working.
"When an event is triggered in your country, whether it is climate related or a natural disaster, you pay the premium, and get this insurance money fast. When there is a drought, the United Nations will raise an appeal and we are very grateful to them but between the two months of waiting what do we see? The picture of African children with flies over their body and nothing being done.
"We said no, let us have this organisation so that when it happens you have about $9 million immediately, and move the people into places where they can be rehabilitated. This is what the African risk capacity does."