The reality is home: Covid-19 is not leaving any time soon, as the World Health Organisation already said. While the global economic power houses have a lot to spend on pandemic response, Africa has little or nothing to spend, thus relying on external partners reeling from the same. The continent is even struggling to pay debts.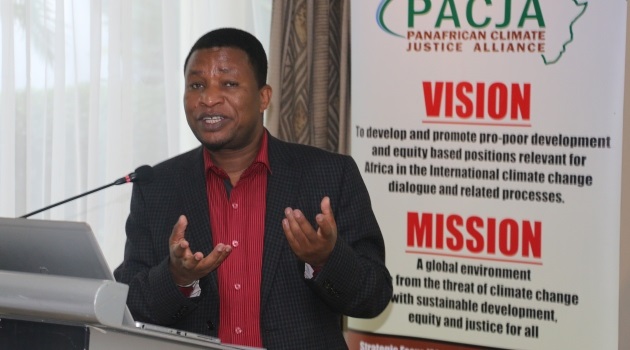 Yet, life must continue. And everyone must play their role to get out of this hole. It is the how that matters now.
This is what a webinar organised by the Pan African Climate Justice Alliance (PACJA)'s Tanzania platform ForumCC heard on Wednesday, July 8, 2020, with speaker after speaker dwelling on ways to make do with what nations have to adapt to the Covid-19 epidemic.
All that presented at the webinar titled "Socio-economic Resilience in Post-Covid-19: Enhancing Climate Change Accountability", were clear that checking actions of governments, organisations and individuals tasked with the responsibility of managing public funds was also key.
The need to push for accountability form institutions and individuals managing public funds arose from acknowledging the fact that key concerns like climate change "have been relegated to the back burner as countries squeeze meagre resources to save populations from the coronavirus" as stated one speaker.
"Beside messing economies, lives and livelihoods, this flu (Covid-19) has worsened other problems such as depression, early marriages, unwanted pregnancies, domestic violence, crime rates, to mention a few. And these are not the places where funds allocated for the climate crisis may be going…the corrupt may just be busy scheming. It is the work of CSOs to put the relevant people to task," said PACJA Executive Director, Mithika Mwenda, at the webinar.
He said countries might not have a choice but to enhance climate change accountability to avert disasters looming in every part of the continent, especially food security and natural calamities.
Dr Mithika expounded on the nexus between climate change and the covid-19 pandemic, saying these were twin tragedies that also needed equal attention.
"The continent is already struggling with a myriad of challenges, including poverty, tropical diseases, poor infrastructure, drought, water scarcity… the continent is grossly unprepared to handle Covid-19 pandemic and a surge in the cases of infection would mean further losses," Mithika said, adding that the outlined effects of Covid-19 were similar to those of climate change.
He called upon non-State actors not to renege on the gains made so far in climate action, though he acknowledged that that the momentum to achieving such may have been disrupted.
"Non-State actors have played a proactive role in the Covid-19 response and should as well be actively engaged during the post-pandemic reconstruction. The momentum registered on climate action over the years has been slowed down," he said.
Mithika called upon States to remove barriers against effective civil society participation in the post-Covid-19 recovery efforts, saying many governments had introduced punitive and oppressive restrictions in the name of combating Covid-19, some which infringed certain fundamental rights.
He sought from governments the acknowledgement of the contributions and value of CSOs, saying most innovations, in terms of policy options and solutions, came from non-State actors.
As Covid-19 has clearly shown, all humanity is connected by one destiny: need for survival, according to Mithika. He called for the replication of mobilisation and solidarity that has been exhibited between governments and other organisations during the Covid-19 pandemic in aiding climate action, but with tenets of democracy such as transparency and accountability put in place.
The scholar also pushed for the support of CSOs to meet and reduce operating costs. "Those relying on external support will take time to recover as their donors sliced or diverted their funding to address the coronavirus emergency," he said, adding that there should also be a window for civil society in the post Covid-19 stimulus funds and subsidies to enable them recover from the shock of the pandemic.
"Donors should establish a Stimulus fund for NGOs to draw from," Mithika said.
He also recommended provision of environment for civil society-government partnerships and innovativeness to develop sustainable alternatives.
The webinar is one in a series that PACJA and its platforms in more than 45 African countries, as well as partners, have been holding in conformity with the new world order brought about by the epidemic, and driven many to recognise the opportunities in technology.