Vice President of Nigeria, Yemi Osinbajo, says Africa has the potential to change the narrative and become the solution to the net zero ambitions of the entire world.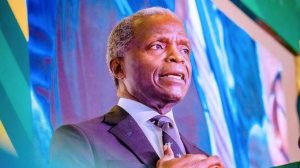 Osinbajo made this submission on Sunday, April 30, 2023, in Nairobi, Kenya, while speaking at a meeting tagged Africa-Europe Earthshot: 2023 Milestone Map with the theme, "Unlocking Investment for a Just Energy Future.''
Net zero entails reducing greenhouse gas emissions to as close to zero as possible, while remaining emissions are re-absorbed from the atmosphere.
The session was part of activities lined up for the 2023 Mo Ibrahim Governance Weekend organised by the Mo Ibrahim Foundation.
The vice president says he fully endorses idea of setting the agenda for the cooperation being talked about; the Africa-Europe cooperation on just energy future.
"I think that agenda is important – the Climate Positive Growth Agenda – that we have heard; and I think in the past couple of days, it has been exciting to hear President William Ruto speak so eloquently and so articulately.
"For me, the next steps are crucial; first, we need to get African governments and heads of state around this agenda and that is crucial because it is one climate positive that is a win-win situation for Africa and the rest of the world.
"It certainly needs a lot of fleshing out and a lot more in terms of getting African governments in particular to understand our place in it and how to take this forward.
"Every government already has a plan; in Nigeria for example, we are not probably a country you think of when it comes to a green economy but the truth is that Nigeria's hydro power has the core of its energy resources.
"Our Energy Transition Plan as well as renewable energy plan both emphasise great ambitions for renewable energy.''
He said that, as a gas rich country, the question should be on how Nigeria would be able to emphasise on the trade-offs and the actual benefits.
The vice president said there was need to present to each government, where the benefits and trade-offs might lie so that consensus could be reached quickly and effectively.
"The other thing is that our partners, that's the rest of the world, has to be convinced that this is win-win; and I think that is another part of where we ought to be.
"I like the way that Ruto put it – that it is not us versus them; it is us all versus the existential threat of climate change.
"I think it is important to emphasise that is win-win because instead of seeing the usual narrative of Africa, the least emitter and the worst sufferer, and we are saying Africa can be the solution to the net zero ambitions of the entire world.
"And how is that going to happen? It will happen because we have everything that it takes – youth population, renewable resources in the magnitude that no one else has.''
He said that Africa, with its abundant natural resources, needed to expedite action towards achieving a carbon-intensive path to upper-middle-income growth that others had gone.
Osinbajo said that Africa must be clear with what it wanted from the rest of the world.
"We are talking about carbon market; we want equitable and fair carbon market; we want access to markets that are fair and just; we want capital.
"Capital is important because the investments that are required in other to make these things happen will not come from Africa; they are going to come from our partners in the rest of the world.
"So, I think that we have a long way to go; but I am excited that we are gaining consensus every day; and that everyone seems to agree that this is a pathway.
"And I am happy that in the midst of sometimes, confusing world of sustainability, there appears to be some clarity about the direction we ought to be going.
"I am very excited about the prospects and I believe that Nigeria will be a very strong partner in this journey and I look forward to working with all of our partners in Africa and Europe to make all these happen,'' he said.
Earlier, Mary Robinson, Founder, Mary Robinson Foundation-Climate Justice, who was one of the moderators at the meeting, commended the vice president for his advocacy for just energy transition for Nigeria and Africa as a whole.
"I know that you have helped Nigeria in pursuing its net zero; you have helped in talking about carbon market not just in Nigeria but in Africa and you have both a strong Nigerian and a strong African perspective,'' she said.
Osinbajo had earlier held a bilateral meeting with President Ruto at the State House, Nairobi.
By Chijioke Okoronkwo