As Global Climate Strikes take place across the world on Friday, September 24, 2021, climate activists in Africa will also hold events and actions to amplify the call for urgent climate action.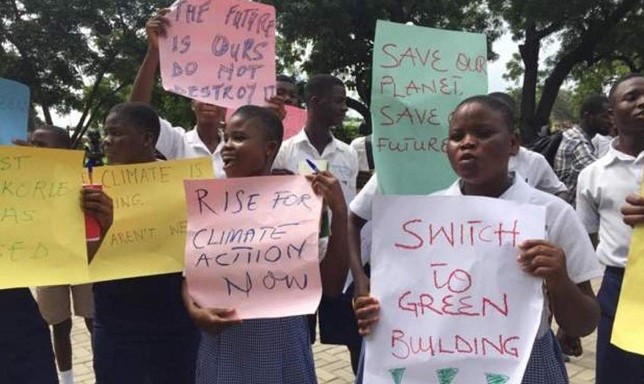 Central to the actions in Africa, are calls for African governments to address the climate crisis, bring an end to fossil fuel exploration and accelerate plans for a just transition to clean energy.
The climate strikes will be happening against a background of devastating climate impacts such as flooding, wildfires and droughts witnessed in parts of the continent.
According to the recently released Intergovernmental Panel on Climate Change (IPCC) report, the rate of surface temperature increase in Africa has been more rapid than the global average and climate impacts are projected to get worse. The report further notes that strong, sustained actions are required to lower carbon emissions significantly to limit climate change, even more reason why climate activists deem these mass actions necessary.
Key activities in Africa:
Goma, Democratic Republic of Congo: Delivery of a petition calling for an end to oil exploration in Virunga to parliamentary representatives, for delivery to President Felix Tshisekedi; and Screening of Fossil Free Virunga short film at Université libre de Pays du Grand Lac.
Accra, Ghana: Letter delivery to the Ministry of Energy offices in the five regions of Ghana calling for inclusion and collaboration with youth and local communities in implementation of renewable energy plans.
Nairobi, Kenya: March to the Ministry of Environment to demand that the government desists from allocating funds to coal, in the national budget.
University of Parakou, Benin: Youth Dialogue on the IPCC report to share key issues emerging from the report with the media and address the need for urgent actions which keep fossil fuel in the ground and increase the ambition on renewable energy.
Nigeria (Virtual): Coal Free Nigeria webinar to deliberate on the state of coal mining in Nigeria and sensitise attendees on the need for Nigeria to shift away from coal mining activities.
Kampala, Uganda: Mural installation to highlight the Stop EACOP campaign.
Lome, Togo: Delivery of parachute banners with renewable energy messages and demands for renewable energy ambitions in the Nationally Determined Contributions (NDCs) as well as the accelerated implementation of these plans.