"We refuse to allow Africa to be used as Europe's gas station" has been the growing call from African activists in Vienna, Austria this week.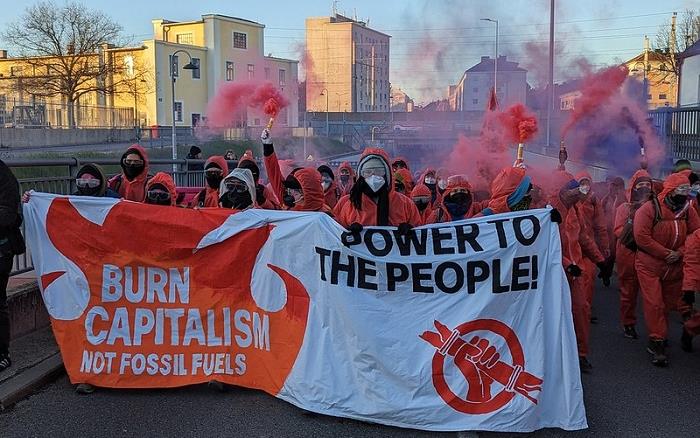 Their call is in support of sentiments by hundreds of people protesting in the European country during the European Gas Conference (EGC). On Tuesday, March 28, 2023, 300 people blocked access roads and tracks of the OMV refinery near Vienna.
The international alliance BlockGas was protesting directly at the main refinery of Austria's biggest fossil fuel corporation, OMV, sponsor of the EGC. BlockGas demands a democratic restructuring of the energy system and expropriation of fossil corporations, amongst other things.
OMV is not only one of the 100 most climate-damaging companies worldwide but has also been a sponsor of the EGC for years, in the past together with the Russian state-owned company Gazprom.
The EGC, taking place this week in Vienna, is a three-day "high-level" event where representatives of fossil fuel companies such as Shell, Total and BP meet with financial investors and political representatives to take decisions on major energy projects. Tuesday's protest is part of a series of disruptive actions of the European Gas Conference. On Monday, hundreds of people disrupted the conference with road blockades around the conference location at the Marriott Hotel in the Vienna city centre.
The people affected by these projects do not have their say at the gas conference – (but) activists from the Don't Gas Africa campaign have travelled to Vienna to protest against this.
"The growing threat of using Africa as a filling station has made it clear that Africa's climate ambitions must be put on the international agenda and that Africa must be able to be an important player in a green, clean global economy – and not just a victim of the climate crisis," says Lorraine Chiponda from Don't Gas Africa.
Deals by European corporations in the Global South are especially critical, as the exploitation of fossil fuels and mass production of green hydrogen for European imports leads to displacement, environmental destruction, human rights violations and thus perpetuates colonial exploitation and contributes to the escalation of the climate crisis.
"The time for gas is over. The time for renewables is here. If we're serious about tackling the climate crisis, we must stop the reckless behaviour of pushing for more oil and gas projects around the globe. We demand that the world take an alternative route and implement renewable energy systems," said Neville Van Rooy of Don't Gas Africa.
But OMV's gas drilling also has life-threatening consequences in Eastern Europe: Last December, the company was convicted in Romania for the negligent killing of a child.
During the energy crisis, OMV was able to double its profit in 2022. Even in times of inflation and escalating climate crisis, OMV continues to stick to its fossil fuel business model. It plans to continue to invest primarily in new fossil infrastructure, such as the Neptune Deep Offshore Platform in the Black Sea and other projects from Romania and Eastern Europe to Austria or new projects in Norway.
"Even in times of massive social and ecological crises, fossil companies like OMV, Shell Total and BP meet at the European Gas Conference to plan further fossil projects. They will not stop doing business with fossil fuels until we make them stop! We all – users, employees and most affected people – must decide on the future of our energy supply, not corporations and lobbies," demands Verena Gradinger, spokesperson of BlockGas.
"It is no coincidence that the European Gas Conference is taking place in Vienna. OMV and other corporations want to use this event to secure billions from investors like BlackRock and influence political decisions in order to push through fossil mega-projects in regions like Eastern Europe and on the African continent," criticises Anselm Schindler of BlockGas.