In his persuasive opening remarks at the first Africa Climate Summit (ACS), President William Ruto of Kenya pointedly urged a change of strategy in the continent's pursuit of a sustainable solution to its climate crisis.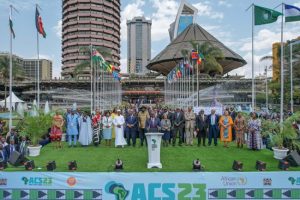 The inaugural ACS was jointly organised by the African Union and the Government of Kenya to discuss sustainable solutions to global climate challenges.
Its theme: "Driving Green Growth and Climate Finance Solutions for Africa and the World" shows the desire of the continent to submit a unified stance on climate action ahead of the 28th UN Climate Change Conference (COP28).
According to Africa Development Bank Group report, Africa is the most vulnerable continent to climate change impacts under all climate scenarios above 1.5 degrees Celsius.
This is in spite of having contributed the least to global warming and having the lowest emissions.
It says Africa faces exponential collateral damage, posing systemic risks to its economies, infrastructure investments, water and food systems, public health, agriculture, and livelihoods, threatening to undo its modest development gains and slip into higher levels of extreme poverty.
It is, therefore, understandable when Ruto said: "For a very long time, we have looked at this as a problem. It is time we flipped it and looked at it from the other side…
"Climate action is not a Global North issue or a Global South issue. It is our collective challenge, and it affects all of us.
"We need to come together to find common, global solutions," he said.
The summit culminated in an eleven-point call to action, now known as the Nairobi Declaration, which critics say overly focuses on market-driven financing mechanisms such as carbon credits, compensations, and debt forgiveness.
Other climate campaigners say except for the common front that the summit presented heading to COP28, it just didn't have sufficient and determined far-reaching resolutions.
Experts say some of the points raised in the Nairobi Declaration were mere echoes of demands that developed countries have either turned a blind eye to or refused to fulfil previous commitments on.
For instance, the summit urged global leaders to join Africa in seizing the opportunity to accelerate global decarbonisation, while pursuing equality and shared prosperity.
But critics observed at the height of the global energy crisis due to the Russian-Ukraine war, how developed countries conveniently reverted to coal-fired energy.
The summit also called for the operationalisation of the Loss and Damage fund as agreed at COP27 and resolve a measurable Global Goal on Adaptation (GGA) with indicators and targets to enable the assessment of progress against the negative impacts of climate change.
The GGA was established at COP26 in Glasgow to enhance resilience and assist the most vulnerable communities.
It was based on the realisation that the impact of climate change on developing countries, especially in Africa, is an indication that the support, funding and awareness required for adaptation needs have been inadequate.
But climate experts and campaigners are unsatisfied with how developed countries have failed woefully to fulfil their financial commitments to vulnerable and worst-hit regions.
Typical of every climate summit, repeated appeals were made for the world's biggest polluters to enhance the transparency of financial flows and facilitate access to funds for developing countries.
And just like previous climate engagements, there were financial commitments by donor nations and multilateral organisations which critics are skeptical about their fulfillment.
Approximately $26 billion was promised for climate investments, including the United Arab Emirates "non-binding letter of intent" for $4.5 billion toward clean energy and USD 450 million for carbon credits.
Denmark also announced a $232 million pledge for the Green Climate Fund's second replenishment. The United Kingdom, United States, Canada, Finland, and Germany also pledged several financing and debt swaps for green projects.
However, the AU used the summit to request the establishment of a new financing architecture that is responsive to Africa's needs including debt restructuring and relief, and the development of a new Global Climate Finance Charter through UNGA and COP processes by 2025.
The issues of accountability and transparency in pursuing a just and equitable energy transition and the need for the worst-polluting countries to take a lead in financing and implementing climate action topped the agenda.
President of the European Commission, Ursula von der Leyen, seemed to read the room well in her speech at the ACS when she said Africa needs climate investment.
"Africa needs massive investment. And Europe wants to be your partner in closing this investment gap. First of all, we fully support the need for multilateral development bank reform.
"It is time to move from words to action – absolutely. Secondly, investment has to come," she said.
The UN Secretary-General, António Guterres, also reiterated the injustice African countries are burdened by with respect to seeking climate finance solutions.
"On average, African countries pay four times more for borrowing than the United States — and eight times more than the wealthiest European countries.
"Turbocharging a just and equitable green transition — while supporting development more broadly across Africa — requires a dramatic course correction," he said.
But here is the same continent still appealing to developed countries to honour the commitment to provide $100 billion in annual climate finance, as promised in 2009 – 14 years ago – at the COP15 in Copenhagen, Denmark.
Christine Lagarde, President of European Central Bank, warned at a recent Paris Summit for a New Global Financing Pact that poor commitment by rich countries could derail the Paris Agreement.
"Developed economies must lead by example and honour the USD 100 billion climate pledge made 14 years ago at COP15 in Copenhagen.
"Governments should also mobilise private finance by implementing transition policies and creating a sound and stable framework to attract capital flows at the national and global level," Lagarde said.
But if anything developed economies appear to be leading in more talks than action.
That's why the ACS reminded them that with seven years remaining to achieve the Sustainable Development Goals of the 2030 Agenda, 600 million people in Africa still lack access to electricity.
About 970 million people in the continent lack access to clean cooking, including in Kenya where Ruto recently lifted a ban on commercial logging, thereby raising concerns about environmental conservation.
The Africa Climate Summit was a symbolic statement of intent by the continent's leaders to shake things up.
However, like similar previous gatherings, it doesn't seem like it has the potential to "flip it and look at it from the other side" as Ruto solicited.
By Kayode Adebiyi, News Agency of Nigeria (NAN)