Ahead of the inaugural Africa Climate Summit (ACS), the Global Energy Alliance for People and Planet (GEAPP) has underlined President William Ruto of Kenya and the African Union's call for increased investment and collaboration to address pressing climate challenges in Africa and end energy poverty with clean energy.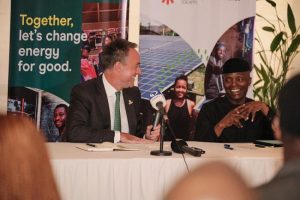 GEAPP says it is honoured to stand by the leadership of President Ruto and the Summit's mission to gather diverse stakeholders to take action. The Summit, adds the group, promises to spotlight the opportunity for Africa to play a pivotal role in bringing innovative technologies and solutions to the forefront of the global climate narrative.
Sub-Saharan Africa possesses some of the world's most valuable natural assets and unparalleled demographic advantage, including abundant solar potential and untapped wind generation. Despite this, it is the continent with lowest energy access and only receives 12% of the $250 billion in climate investments it needs per year.
Over three days at the Africa Climate Summit in Nairobi, GEAPP and its Alliance partners will provide updates on their collaborative work in Africa to scale and accelerate renewable energy minigrids and the use of battery energy storage systems. They will also share learnings from their work to increase jobs related to green energy and the crucial steps needed to ensure clean energy also powers economic growth, job creation and equitable progress.
Addressing the session: "Harnessing Africa's Renewable Energy Potential", Simon Harford, GEAPP's CEO, will draw on insights from the organisation's first 18 months of operations.
Simon said: "GEAPP supports African governments as they work to place just, green energy transitions front and centre of the Summit and to collaborate on progress."
He continued: "The crisis is not impending. The crisis is here right now for all of us. Look at the impact of climate change on agriculture, livelihoods, and people across every country. This is real and urgent, and GEAPP is determined to make a difference. In our first 18-months of operation, GEAPP has begun actively working in DRC, Ethiopia, Malawi, Nigeria, South Africa, Sierra Leone, and Uganda; this Summit offers an important opportunity to commit to concrete actions and closer collaboration between Africa and the rest of the world."
Simon Harford will be joined at the Summit by GEAPP's new Global Adviser, immediate past Vice President of Nigeria, Professor Yemi Osinbajo.
Prof. Osinbajo said: "The Summit has put the opportunity to invest in Africa's green energy, technology and innovation resource at the forefront of the global discussion. I am delighted to be working with GEAPP, forging the partnerships and collaboration that can unlock this system change, hand in hand with governments, communities, funders and business across Africa and the world. By working together, we can expedite the transition to clean energy and foster sustainable economic growth essential for Africa and the global community."
The first climate summit in Africa offers a valuable opportunity to bring together varied stakeholders including civil society and financiers, to commit to concrete collaboration and actions for assessment at the next Summit.
GEAPP is an alliance of 20 partners founded at COP26 by the IKEA Foundation, The Rockefeller Foundation and the Bezos Earth Fund, and is an official sponsor of ACS.
By partnering with governments and fostering international alliances and collaboration, GEAPP is seeking to catalyse rapid change and a wider global movement towards a brighter, more sustainable world.