A recently built supposedly affordable and green housing project in Nigeria located in Igbo-Etche, Port Harcourt in Rivers State has been completed, and the first families have moved in. The Passive House Prototype eco-village, built by Comprehensive Design Services and CAP Consultants, led by Chinwe Ohajuruka (and her team, with Omie Ben-Kalio and Michael Ukpeh) is now fully functioning.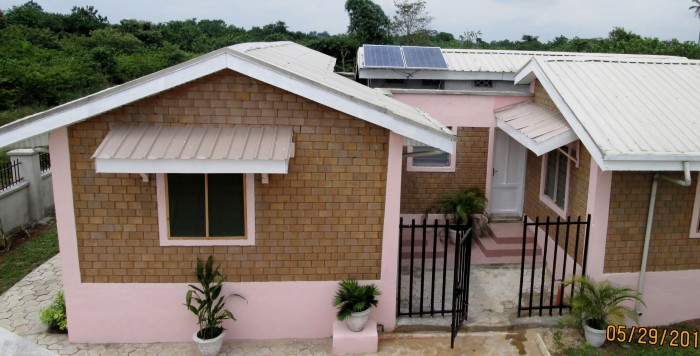 The self-cooling and solar-powered design uses bio-climatic features such as natural ventilation and shading, light coloured roofs, courtyards, solar power for pumping water and lighting, waste recycling, compressed earth Hydraform blocks, as well as locally available materials for construction. The new families will be guided and assisted with the use of the green low technologies that the Passive House principles are based on, according to the Community Conservation and Development Initiatives (CCDI), adding that residents have already remarked that they do not need any fans or air-conditioners to live comfortably.
"A key factor in the design is its affordability for low-income earners, as they find it very difficult to access funds for property ownership, and the next step is to provide more families with the opportunity to own this kind of home," stated Kofo Adeleke of the CCDI in a statement. "This project addresses the low income housing shortage, environmental sustainability and Nigeria's goal of achieving a low carbon green economy, and has managed to tackle all three at the same time."
According to her, CCDI has been looking at environmentally sustainable financing and green products and services that financial institutions can provide to developers for green housing projects and for families to obtain green mortgages to buy them. Green mortgages with lower interest rates for clients who purchase energy efficient homes, solar energy financing, environmentally friendly technology leasing and carbon financing are all part of the solution to scale up green projects, she adds.
Adeleke submits: "Chinwe Ohajuruka is a finalist in the Cartier Women's Initiative Awards business plan competition (https://award-editions.cartierwomensinitiative.com/award-editions/2015/chinwe-ohajuruka); she is representing Nigeria as well as the West Africa sub-region. The winner will be announced in mid-October at a joint Cartier Women's Initiative Awards and Women's Forum event in Deauville, France. Through this, Chinwe Ohajuruka has been able to demonstrate that environmentally sustainable and affordable housing in Nigeria can be achieved through modular Passive Housing Prototypes and believes in leading by example to prove that such projects are doable, replicable, scalable and commercially viable in Nigeria! Her mantra has been that if Nigeria can address the housing deficit as well as other infrastructure by building green, Nigeria will lead the world in sustainability.
"The successful execution of this project provides evidence for developers, financial institutions, microfinance organisations, state and federal governments, foundations, NGOs and others on the opportunities for partnerships and collaboration on affordable green housing."