The Africa Development Bank (AfDB), in partnership with the International Institute of Tropical Agriculture (IITA), is convening a high-level partnership meeting to develop an action plan to deploy proven technologies against the highly destructive Fall Armyworm (FAW) in East Africa. Ultimately, an appreciable management of FAW in East Africa will significantly reduce adult populations which subsequently migrate to initiate attacks in other regions.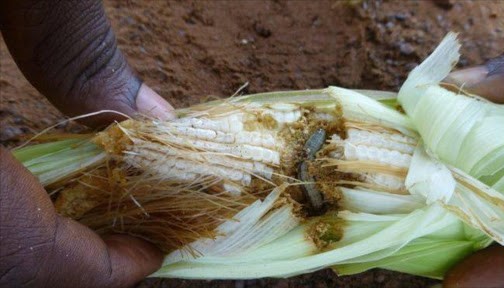 The meeting will bring together ministerial level government representatives and experts from the government of Kenya, as well as authorities including from African Development Bank, IITA, the African Agricultural Technology Foundation, the Alliance for a Green Revolution in Africa, FAO, CIMMYT, CABI, United States Agency for International Development (USAID) and the Syngenta Foundation.
Fall Armyworm, or Spodoptera frugiperda, is an insect that is native to tropical and subtropical regions of the Americas. In its larval stage, it can cause significant damage to crops, if not well managed. The caterpillar prefers maize but can feed on more than 80 additional species of plants including rice, sorghum, millet, sugarcane, vegetable crops and cotton.
The talks are part of continent-wide regional approaches to address the FAW threat. As part of its Technologies for African Agriculture Transformation (TAAT) agenda, the African Development Bank established a Fall Armyworm Compact to mobilise support from researchers and the public and private sector, to confront the menace. The Compact seeks to identify new technologies to combat the pest and rapidly deploy them to smallholder farmers across the continent.
Participants will look at ways to deploy the most effective Fall Armyworm-combating technologies to tens of millions of smallholder farmers in the shortest possible time. One focus will be on the Syngenta Foundation's seed treatment pesticide known as Fortenza Dou, considered effective against Fall Armyworm in the first 30 days of the plant's growth.
Participants will be drawn government representatives, key private sector and researchers and development actors from Burundi, Ethiopia, Eritrea, Kenya, Rwanda, Somalia, South Sudan, Sudan and Uganda. Partner organisations in this initiative including the Food and Agriculture Organisation (FAO), United States Agency for International Development (USAID), the Alliance for a Green Revolution in Africa (AGRA) and Syngenta Foundation will also be present.
The workshop seeks to take stock of available technological options and on-going FAW interventions by partners; identify options on financing delivery of the proven technological options to farmers; identify necessary policy and regulatory framework reforms to allow for registration of these new technologies across the region and get buy-in and agreements of all stakeholders required for concerted action to achieve quick wins in the war against FAW.
Courtesy: PAMACC News Agency