African countries, through the African Development Bank (AfDB) on Tuesday, May 22, 2018 in Busan, South Korea, opened a new chapter in the continent's efforts to industrialise under an economic cooperation with the Africa-Korea Economic Cooperation (KOAFEC).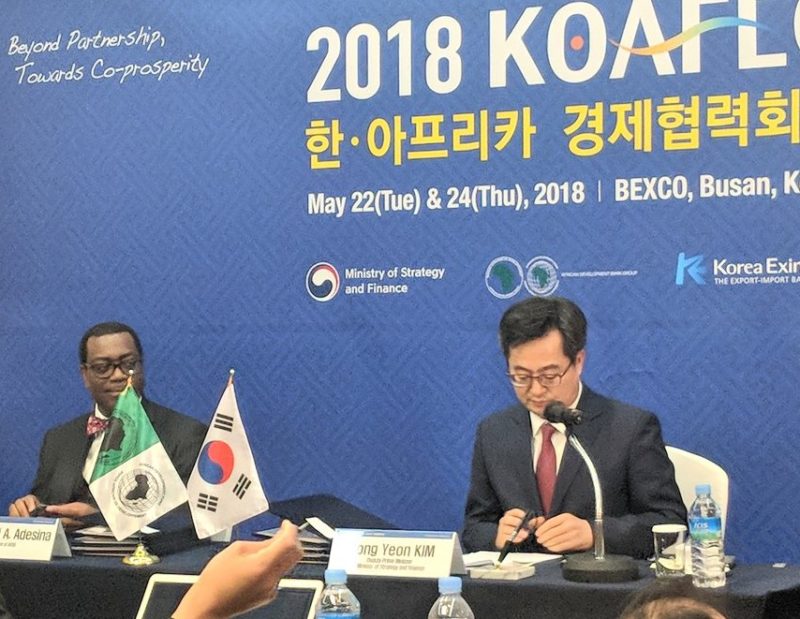 Finance Ministers and Central Bank Governors of the 54-nation continent, at a Ministerial Roundtable spearheaded by KOAFEC and AfDB, rose from a session at the Busan Exhibition Centre with a consensus to utilise Africa's comparative advantage in agriculture to achieve rapid industrialisation.
AfDB President, Dr Akinwumi Adesina, announced resolutions of the session, that the countries examined critical issues militating against the continent's desire to achieve greatness through industrial and technological breakthrough.
He said the countries agreed to invest massively on digital infrastructure by closing the huge gap, adding that the energy, transport and other critical sectors would be accorded adequate attention to achieve greatness and financial inclusion.
The ministerial session also opted for proper long term planning for industrialisation towards economic competition with the rest of the developed nations.
"The private sector roles are also critical in this direction as the participants agreed to mobilise the stock exchange in closing the infrastructure gaps."
Adesina also signed a four-pronged Memorandum of Understanding with the Korean Government on technical and general cooperation agreements, including a technical corps programme and energy facilities.
He said after signing the documents on behalf of the AfDB, that the contents would assist Africa on exchanging high technical linkage and ideas as Korea was determined to drive digital economy and high industrialisation for Africa.
Adesina announced that the bank was investing on some African universities in science and technical education to produce highly skilled manpower to drive the continent's desire for competency, research and scientific innovation.
Commenting on China's current massive participation in Africa's development, he said the Asian country was involved in massive investment on infrastructure development through close relationship with the governments.
"There is no competition between China and Africa but partnership; we have to build wider partnerships and China is part of Africa's development.
"Investments and training by China are critical to Africa but the nature of trade with China has to be value-based, not just exports.
The Korean Deputy Prime Minister, Dr Yeon Kim, signed for the government, saying that Korea would assist in technological advancement of Africa's fast growing economies.
By Idris Abdulrahman