Africa Finance Corporation (AFC) has inaugurated a roadmap to combat climate change on the continent.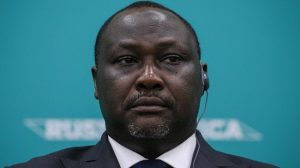 To this end, a report titled: "Roadmap to Africa's COP: A Pragmatic Path to Net Zero" was presented at the AFC Live Infrastructure Solutions Summit held in Abuja on Thursday, May 12, 2022.
Samaila Zubairu, the President and Chief Executive Officer, AFC, said the new policy paper defined the continent's stand ahead of COP27 UN Climate Change Conference in Egypt.
Zubairu said the report was set within a context where Africa had borne the brunt of the most devastating impacts of climate change while contributing little to global emissions.
He said Africa, therefore, needed a realistic agenda for addressing climate change which allows the region to also continue advancing its industrial base.
"When it came to global net zero, Africa is unlike any other continent when it comes to global net zero – and we need a blueprint for a common negotiating stance that reflects this.
"We are advocating consideration of Africa's energy deficit and the need for quantum leaps in industrialisation for job creation and reducing poverty,
"As well as climate-proofing built infrastructure and protecting our powerful carbon sinks."
Zubairu said the report argued that, while cutting emissions was vital for the more developed and highest polluting wealthier nations, there was a more limited universal impact to be gained from reducing the far lower emissions of sub-Saharan Africa.
The president said the report concludes that African nations would drive a far greater effect in combatting global warming by focusing on three significant areas of change.
"We propose a three-pronged approach to combat climate change, the three significant areas include to localise, rebuild and innovate."
He said the continent needed to localise production, increase value, create jobs, reduce poverty and lower emissions.
Zubairu said Africa must focus on developing local industries by putting processing and manufacturing at the centre of sustainable circular economies.
He said doing so would eliminate emission-spewing shipments of Africa's minerals and other commodities to Asia for manufacturing and processing, only to be shipped again as finished goods to consumer markets.
"Especially important is creating local manufacturing of the components of renewable energy technology."
The president said it was critical for these metals to be mined in such a way that minimises further pollution and for resource-efficient sustainable mining techniques to be combined with ecosystems fostering local production centres.
On rebuilding, Zubairu said the continent needed strong and resilient buildings to re-build ocean and river defences and infrastructure in transport, construction, electricity grids and off-grid energy.
He said according to the report, this would in turn help the development of sustainable mining and the circular economies that drive growth and job creation.
The president said financing was also needed to help preserve Africa's vast carbon sinks.
He said these sinks absorb more carbon dioxide annually than any other region's rainforests but were being depleted by local populations for firewood for cooking and heating.
Zubairu said Africa must look for a way to unlock capital from the private sector.
According to him, AFC's many projects over the course of 15 years demonstrate that it is possible to mobilise financing at scale through crowding in private sector investment.
"Through leveraging financial input from governments and NGOs, we have the tools to de-risk climate investments and offer strong returns to incentivise funding from institutional investors."
The president said these efforts could help ensure that capital flows to the frontlines of the fight against climate change in Africa.
He said insurance was a tool to unlock capital, adding that repurposing the aid that comes into Africa would help with additional capital into Africa.
The president said Africa's leaders need to agree on climate action and do things differently in addressing solutions around climate.
According to him, we need to have local value and see how we can build more resilient infrastructure.
AFC was established in 2007 to be the catalyst for private sector-led infrastructure investment across Africa.
It is the second highest investment grade rated multilateral financial institution in Africa.
AFC's approach combines specialist industry expertise with a focus on financial and technical advisory, project structuring, project development and risk capital.
The aim is to address Africa's infrastructure development needs and drive sustainable economic growth.
AFC invests in high-quality infrastructure assets that provided essential services in the core infrastructure sectors of power, natural resources, heavy industry, transport, and telecommunications.
To date, the corporation had invested $10 billion in projects across 35 African countries.
By Okeoghene Akubuike