Abuja Environmental Protection Board (AEPB) says it has put measures in place to ensure dirt-free environment in 2019.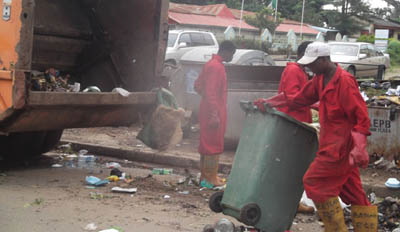 AEPB Head of Information and Outreach Unit, Mallam Muktar Ibrahim, said this in an interview the News Agency of Nigeria (NAN) in Abuja on Sunday, January 6, 2019.
Ibrahim said that the measures aimed at ensuring a clean, hygienic and sustainable environment in the Federal Capital Territory (FCT).
"While wishing all residents of FCT a happy and prosperous new year 2019, the AEPB is poised more than ever before to ensure a clean, hygienic and sustainable environment in the FCT.
"To guarantee this, the board has put various measures in place, including increased monitoring and enforcement activities by AEPB and constant removal of all sundry nuisances across the city.
"In addition, the board is stepping up its intervention to deal with any city cleaning contractors who is found wanting.
"This has achieved great results in the sense that they have been put on their toes as any intervention carried out attracts deductions on the erring contractor,'' the information officer said.
He added that the board was working to expand its cleaning contractors from 27 to 48 in the new contract.
"AEPB solicits the cooperation of residents to cultivate a civilised attitude towards environmental cleanliness as the board will not spare any one found to be working in cross purposes to AEPB mandates.
"We put strategies in place to ensure that the usual post yuletide waste littered have been evacuated and reduced to the barest minimum.
"City cleaning contractors have been mobilised at short notice to any area of perceived nuisances if there is a complaint from concerned parties,'' he said.
Ibrahim advised all residents to maintain environmental cleanliness to achieve the FCTA's vision of making Abuja one of the first-class cities of the world.
According to him, AEPB advises all residents to ensure proper disposal of waste through proper bagging.
"Residents should provide proper waste bins with lids for waste collection and avoid throwing of waste out of vehicles.
"They should pay waste service charges to AEPB dedicated revenue accounts displayed on the service bills and avoid any form of cash payments which is recipe for fraud.
"They should also ensure proper connection of their properties to AEPB managed central sewer lines and desist from patronising street hawkers,'' he said.
Ibrahim urged residents to report suspicious persons/activities to the relevant agencies, including scavengers who have been banned from operating within the city.
"They should fight against open defecation and avoid bush burning to protect the environment.
"Residents are also advised to report all forms of environmental pollution to the board for prompt attention.
`These include noise, air and water pollution from loudspeakers, grinding machines which may result from using residential places for commercial purposes,'' Ibrahim said.
According to him, other forms of waste include burning of hazardous materials that release poisonous fumes into the atmosphere.
He said that the board had rehabilitated several dilapidated Roro bins to increase the number of available receptacles for waste collection and minimise litter around waste collection points.
"In addition, AEPB has engaged an additional 300 enforcement staff to boost its compliance mechanism.
`The FCT Administration has also regularised the employment of 300 staff, cutting across the relevant departments of the board, especially the Environmental Health and Safety.
"This will enhance the board's capacity in inspecting premises to check sundry nuisances,'' he said.
By Deji Abdulwahab