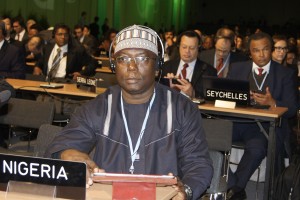 Ahead of Nigeria's plan to launch its full implementation of the REDD+ programme with the inauguration of the National Advisory Council, government and non-state actors like the media and civil society have been urged to ensure strict adherence to the principles of equity and free, prior and informed consent that underpins the mechanism. National Network Coordinator of the Climate & Sustainable Development Network (CSDevNet), Atayi Babs, made this call at a review meeting on the outcome of a REDD+ Media Training Workshop that held in Abuja recently.
Reiterating its longstanding commitment to the Nigerian forests, the Network enjoined all stakeholders to ensure the emission-reducing activities that should fall under the REDD+ rubric in Nigeria must include, but not be limited to, governance programs encouraging the devolution of land rights to indigenous groups, establishment of conservation areas, sustainable forest management including selective harvesting of trees, establishment of agroforestry projects, payments for ecosystems services through international development funds, payments through ecosystems services through market mechanisms, voluntary conservation payments, commercial agricultural intensification, disbursement of efficient cook stoves to limit wood harvesting, establishment of alternative industries for forest dwellers to prevent clear cutting, training of local police forces to prevent deforestation, establishment and training in remote monitoring and mobile technology to improve policing and detection.
He said: "Concerns are already being raised by forestry stakeholders in Cross River State about the implications of REDD+ for equity, including the importance of equity for achieving effective carbon emission reductions from forests in Ekuri and since equity is a multifaceted concept that is understood differently by different actors and at different scales, there is more than ever before, a great need for informed media narratives that will denounce the portrayal of local users as 'forest destroyers' while correcting erroneous impressions about REDD+ discriminating against local communities that are already making demonstrable efforts conserve forest resources."
This challenge, according to him, remains very crucial as "the success or failure of REDD+ in Nigeria will be largely dependent on how policy actors' opinions and actions on REDD+ are presented in the public domain as well as the extent to which national REDD+ strategy and policies will be able to deliver equitable outcomes."
Reducing emissions from deforestation and forest degradation (REDD+) is primarily a market-based mechanism for achieving the effective reduction of carbon emissions from forests. The UN-REDD Programme is the United Nations collaborative initiative on Reducing Emissions from Deforestation and Forest Degradation (REDD) in developing countries. The Programme was launched in 2008 and builds on the convening role and technical expertise of the Food and Agriculture Organisation of the United Nations (FAO), the United Nations Development Programme (UNDP) and the United Nations Environment Programme (UNEP). The UN-REDD Programme supports nationally-led REDD+ processes and promotes the informed and meaningful involvement of all stakeholders, including Indigenous Peoples and other forest-dependent communities, in national and international REDD+ implementation.