Japan on Monday, March 30, 2020 laid out its revised plans to tackle greenhouse gas emissions under the Paris agreement in the run-up to UN climate talks this year, becoming the first large economy to do so.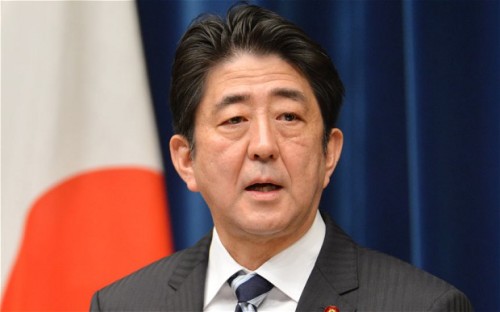 But its proposals were criticised by campaigners as grossly inadequate, amid fears the Covid-19 crisis could prompt countries to try to water down their climate commitments.
The UK, which will host the talks, hopes every country will produce renewed targets on curbing emissions and achieving net zero carbon by 2050.
New commitments are needed to achieve the Paris goals of holding temperature rises to no more than 2C, and ideally 1.5C, above pre-industrial levels, as on current national targets the world would far exceed those limits.
Japan's carbon targets – known as its nationally determined contribution (NDC) in the UN jargon – appear to be almost unchanged from its commitments made in 2015 towards the Paris accord, however.
The country's target of a 26% reduction in emissions by 2030, based on 2013 levels, is rated as "highly insufficient" by the Climate Action Tracker analysis, meaning that if all targets were at this level, temperature rises would exceed 3C.
The country, the world's fifth biggest emitter and third biggest economy, is one of the only developed countries still building new coal-fired power stations, although there are signs it may hold back.
Campaigners fear the coronavirus pandemic will be seen by some countries as a way to weaken their commitment to the Paris accord and present less stringent targets instead of the strong cuts needed.
"Japan should not slow down climate actions even amid the Covid-19 global fights, and must revisit and strengthen this plan swiftly in order to be in line with the Paris agreement," said Kimiko Hirata, the international director of the Kiko Network, a climate group in Japan.
She added that the prime minister, Shinzo Abe, appeared content "to settle for a low target and policies to continue to fund coal, which are firmly taking us down the path to economic and environmental ruin".
Kimiko Hirata, International Director, Kiko Network, Representative, Limate Action Network (CAN)-Japan, said: "In the face of the climate crisis, we have no time to delay action. The Japanese Government had a choice between showing ambition to lead and succeed or settling for the false comfort of empty words and collective failure. Sadly, the Nationally Determined Contribution that Japan submitted is very much the latter. This failure will cost us all dearly.
"Japan is the world's third largest economy with the potential to catalyze, and benefit from, a rapid transition to clean energy. Prime Minister Abe still has the chance to invest in a green economy, playing a role as a leader who tackle the climate crisis. He, however, appears to be content to settle for a low target and policies to continue to fund coal, which are firmly taking us down the path to economic and environmental ruin.
"Japan should not slow down climate actions even amid the Covid-19 global fights and must revisit and strengthen the plan swiftly in order to be in line with the Paris Agreement."
Takayoshi Yokoyama, Team Leader, 350.org Japan, said: "It is extremely disappointing that the Japanese government submitted the NDC without any upward revisions. As a signatory country of the Paris Agreement, Japan should appreciate the goal indicated by IPCC's 1.5 degree Celsius Special Report that greenhouse gas emissions should be reduced by 45% by 2030. As the fifth largest emitter in the world, Japan should take its responsibility and lead towards a decarbonized society instead of showing a bad example to other countries that have been considering reductions very seriously.
"While the world is phasing out coal, Japan's addiction to coal is watering down the efforts being made by the rest of the world and posing a burden in meeting global goals to tackle the climate crisis. Coal-fired power plants are losing profitability and sticking to coal will not only damage the long-term economy in Japan but also sustainable development of developing countries by locking them into a high carbon economy. The vast impacts of the climate crisis have already been apparent, and what we need now is to immediately start national debates with transparency and raise the ambition followed by concrete actions."
Naoyuki Yamagishi, Leader, Climate and Energy Group, WWF Japan: "Japan missed another opportunity to show leadership for decarbonisation but instead sent a completely wrong signal to the international society implying it is ok not to enhance ambition at this crucial moment. No, this is NOT OK in the face of a climate crisis.
"Submitting an unchanged NDC now for the sake of meeting the nine- twelve month deadline has no legal basis and possibly discourages other countries efforts to seriously consider enhancing NDCs. The government should have listened to the positive voices expressed in the statement by Japan Climate Initiative (JCI), which was signed by 248 organisations including business companies, local governments and other non-state actors who urged the government to enhance its NDC. The only possible remedy now is to start an open and transparent process to discuss how to (NOT whether to) enhance its NDC with a clear time schedule."
Kat Kramer, the global climate lead at Christian Aid, said of the latest Japanese plan: "The fact they are smuggling it out during a global pandemic, when it will avoid the scrutiny it deserves, is shameful."
Laurence Tubiana,the chief executive of the European Climate Foundation and the French architect of the Paris agreement, called Japan's move disappointing and contrasted it with those of economic rivals the EU, UK, China and South Korea, which she said were moving to a low-carbon economy.
"At one of the most challenging times of recent memory, we need bolder, mutually reinforcing plans that protect our societies from the global risks we all face," Tubiana said.
There is still scope for Japan to revise its targets. Other countries have yet to submit their detailed NDCs, but several – including the UK and the EU, and more than 70 smaller economies – made public their intention to reach net zero carbon by 2050, at last year's UN climate talks in Madrid.
This year's talks, called Cop 26, are still officially scheduled to be held in Glasgow this November, although there has been pressure from some quarters to announce a postponement.