On the evening of 7th December, 2014 (today) candle and solar-lantern lit vigils are taking place all over the world.  People are gathering to show their concern about climate change.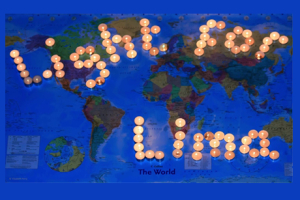 Building on the momentum from the People's Climate March where they mobilised tens of thousands of participants, faith groups are holding vigils in 13 countries to pray for progress towards an international agreement to address climate change.  The vigils take place even as leaders are gathered for the crucial Lima climate talks.
As part of the project #LightForLima, Climate Aid Initiative in collaboration with other environmental NGOs in Lagos will be home to a vigil at Ndubuisi Kanu Park, Alausa at from 5pm-7pm.
"We want our leaders to hear the moral imperative for action," said Oluwatosin Kolawole of Climate Aid.  "These vigils represent the voices of the human spirit, expressed through our religious and spiritual traditions and through many people's personal convictions.  The vigils show love and concern for our children, vulnerable people and our precious planet."
Oluwatosin Kolawole added "We want our Leaders to know they have our support to be more determined and generous in finding ways to a meaningful global agreement on climate change"
Leaders from Muslim and Christian communities, and people from a variety of spiritual backgrounds, are leading the vigils in countries including Australia, Canada, India, Israel, Japan, Nigeria, UK, and the USA.
Proposed activities at the vigil include: Opening Song; Brief Statement of the Harm Caused by Climate Change; Talk: what do we love that we want to protect from climate change; Readings or Prayers from a Variety of Sacred Texts; Prayers for the Leaders of the World and for those harmed by climate change; Song; Lighting of candles; Call to Action (invite attendees sign the Our Voices petition on cell phones); Prayer or statement of commitment to continue praying, meditating and advocating for a climate agreement; Closing Prayers; and, Closing Song.
Kolawole submitted: "This month, just weeks after the largest climate mobilisation ever, the world's two biggest polluters – the United States and China – announced their most ambitious climate action yet. That is not a coincidence: it's a sign that our pressure is working, and that we need to apply much more.
"The emissions of China and the US have been used by governments around the world as an excuse to dodge their own responsibilities. But this new agreement leaves these governments with nowhere left to hide and opens the door for real progress from global governments. Time is running out for our leaders to reach an agreement to save us from devastating climate change."