As the leaders of the world's wealthiest nations wrapped up their first in-person summit since the outbreak of the pandemic, the leaders of seven industrialised nations released a joint communiqué on Sunday, June 13, 2021, underscoring areas of solidarity – and the differences that remain – when it comes to tackling a host of global crises.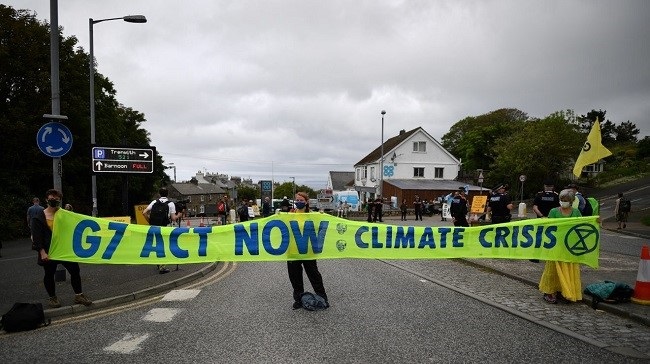 The group, however, did not reach agreement on a timeline to eliminate the use of coal for generating electric power, a failure that climate activists said was a deep disappointment ahead of a global climate conference later this year.
Tasneem Essop, Executive Director, Climate Action Network, said: "Unforgivable. Short-sighted. Selfish. The outcomes from the G7 Summit simply do not measure up to the scale of the twin crises the world is facing: a historic pandemic that has taken four million lives and threatens billions more, particularly unvaccinated populations in the global south; and increasingly devastating climate impacts and loss and damage tied to a destructive dependence on fossil fuels, including oil and gas.
"Donating vaccine doses, however good the intention, does not constitute an efficient, equitable or rapid path to end this pandemic. The richest nations have failed to agree to unlock all patents on Covid-19 vaccines and treatments and provide resources and technology to ramp up vaccine manufacturing globally. This is a moral failure and a stain on the legacy of this summit. This lack of global solidarity does not bode well for how rich countries will lead on the climate crisis.
"On climate finance: the $100 billion promised a decade ago is the minimum of what is needed to build trust before COP26 and meet past obligations. Rich countries cannot simply reiterate existing obligations but must put substantial new and additional finance on the table. Let's remember, the $100 billion is not a one-off payment. It is a continuing annual commitment as agreed to in the Paris Agreement for rich countries to do their fair share and mobilise finance in the trillions if we are to keep warming to 1.5C degrees within this decade."
Jennifer Morgan, Executive Director, Greenpeace International: "Everyone is being hit by COVID-19 and worsening climate impacts, but it is the most vulnerable who are faring the worst due to G7 leaders sleeping on the job. We need authentic leadership and that means treating the pandemic and the climate crisis for what they are: an interconnected inequality emergency.
"The G7 have failed to set us up for a successful COP26 as trust is sorely lacking between rich and developing countries. Rebuilding this essential multilateral trust means supporting the TRIPS waiver for a People's Vaccine, delivering on commitments for climate finance for the most vulnerable countries, and kicking fossil fuels out of politics once and for all.
"The solutions to the climate emergency are clear and available, but the G7's refusal to do what's needed is leaving the world's vulnerable behind. To fight COVID-19, supporting a TRIPS waiver for a People's Vaccine is crucial. To lead us out of the climate emergency, the G7 needed to deliver clear plans to quickly phase out fossil fuels, and commitments to immediately stop all new fossil fuel development with a just transition. Where is the clear national implementation with deadlines and where is the climate finance so urgently needed for the most vulnerable countries?
"A resourced plan to protect at least 30% of our land and sea is missing, yet urgently needed. Nature protection must be realised in partnership with local and Indigenous Peoples within this decade. Otherwise, pandemics stand to become a nightmarish norm against the backdrop of climate catastrophe."
John Sauven, Executive Director, Greenpeace UK: "This summit feels like a broken record of the same old promises. There's a new commitment to ending overseas investment in coal, which is their piece de resistance. But without agreeing to end all new fossil fuel projects – something that must be delivered this year if we are to limit dangerous rises in global temperature – this plan falls very short.
"The G7's plan doesn't go anywhere near far enough when it comes to a legally binding agreement to stop the decline of nature by 2030. And the finance being offered to poorer nations is simply not new, nor enough, to match the scale of the climate crisis.
"Boris Johnson and his fellow leaders have buried their heads in the Cornish sand rather than rising to the environmental challenge we all face."
Teresa Anderson, climate policy coordinator at ActionAid International: "The G7's reaffirmation of the previous $100 billion a year target doesn't come close to addressing the urgency and scale of the crisis. When it comes to climate finance, empty rhetoric won't pay the bills or deliver the action needed to avert climate catastrophe.
"Communities living on the frontlines of the climate crisis in the Global South need specific pledges of financial support that enable them to adapt and recover from climate disasters.
"Rich countries have so far failed to deliver on climate finance pledges and the majority of what has been provided so far has been in the form of loans, which are pushing vulnerable countries further into debt and poverty.
"The G7 must announce real finance through grants and stop turning a blind eye while the world's poorest and most marginalised, including women and girls in the Global South, are hit hardest by devastating cyclones, floods and rising sea levels."
Sven Harmeling, Global Policy Lead Climate Change and Resilience, CARE International: "G7 countries have failed to provide more clarity on how they intend to scale-up climate finance in order to meet the 100 billion goal. Another vague reaffirmation of this goal provides little certainty to those people in developing countries facing immediate and severely harmful climate impacts, in particular poor women and girls.
"Germany's announcement to increase finance from €4 billion to €6 billion per year by 2025 at the latest is at least a more concrete step in the right direction, after a lot of public pressure. However, while not ruling it out it falls short of the needed doubling by 2025, and 50% for adaptation finance is a must."
Manuel Pulgar-Vidal, WWF Global Lead Climate & Energy: "The announcement on the climate crisis from the seven countries with the world's largest economies, was welcome.
"We need this kind of political momentum to spur even more ambitious climate action.
"Sadly, the comments from the G7 were not 'one giant leap for (human)kind' that we need and expected. It was more like 'one (positive) small step'. Nevertheless, there is time, before the most important November meeting of the UN climate talks since Paris, to step up efforts to match the abyss we are staring into. We need politicians to be single-minded about this unprecedented challenge.
"The announcement on coal is exactly the scale of action we need to see from world leaders. But in the glaring reality of unrelenting climate impacts, affecting mainly the most vulnerable countries and communities, we must be talking about ending exploration and mining of all fossil fuels.
"We have to speak about cancelling fossil fuel subsidies and increasing support to boldly accelerate the already important rhythm in renewable energy and nature-based solutions up-take, all in a just transition to a new, climate- and nature-aligned economy. We are calling for leaders to create a Global Commission for Economy and Nature, acknowledging that economic prosperity is dependent on a healthy and diverse planet.
"Finally, we are talking about the richest countries shaping our future. These countries must, must, do more to provide desperately needed finance. They must align all public finance towards a climate- and nature-positive, equitable global economy and firmly regulate private financial flows to that same direction."