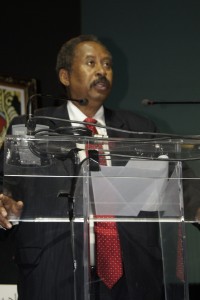 Deputy Executive Secretary at the United Nations Economic Commission for Africa (NECA), Dr Abdalla Hamdok, laments on Wednesday in Marrakech, Morocco at the opening of the Fourth Annual Conference on Climate Change and Development in Africa (CCDA-IV) that, of all the regions of the world, Africa remains the hungriest, producing only 10% of global agricultural output from farming systems that rely on rain-fed agriculture. He wants the continent to invest wisely so that it can transform the agricultural sector, feed its people, sustain the economic momentum and create wealth
Africa's capacity to feed itself now and in the future remains a major challenge despite its enormous agricultural potential to produce enough food for the continent and surplus produce for markets which could have effectively secured long term inclusive growth and enabled governments achieve the ultimate goal of reducing poverty and ending hunger in their countries.
Today, regardless of achievements in economic growth, nearly 300 million people go hungry and the continent continues to spend colossal amounts of money annually (between $40 billion and $50 billion) importing agricultural products despite enormous resource endowment of unutilised arable land, fresh water resources and human capital to produce sufficient food.
Consequently, of all the regions of the world, Africa remains the hungriest, producing only 10% of global agricultural output from farming systems that rely on rain-fed agriculture and nearly wholly dependent on environmental stability, which makes them sensitive to rainfall variability and are extremely vulnerable to impacts of climate change. Paradoxically, agriculture remains the single most important sector in many African countries accounting for at least 30% of national incomes, employing around 75% of the population, providing their livelihoods, as well as forming the bulk of export revenue.
It is indeed sad that owing to increase in global temperature and ensuing climate change agriculture productivity will further deteriorate according to the Fifth Assessment Report (AR5) of the Intergovernmental Panel on Climate Change (IPCC). A rise in temperature of more than 2°C could aggravate existing food deficit and deny the continent capacity to feed its growing population which is predicted to reach two billion by 2050 and prevent African countries from attaining the ultimate goal of reducing extreme poverty and ending hunger. Equally challenging is the predicted decline in precipitation exposing millions of people to water stress and expanding semi-arid and arid areas which make agricultural production unattainable.
Aware of food security challenges, countries have been struggling to increase agricultural production largely through the expansion of cropping areas into forest and marginal areas instead of through increased productivity on land currently in production. The impact of this is the exacerbation of deforestation, which increases the risks of disruptions of water systems on which agriculture depend, as well as raise GHG emission that contribute to climate change.
Innovative actions are therefore needed to turn climate challenges into opportunities that enhance capacity to produce sufficient food, improve agriculture sector performance while creating rural jobs to deter rural urban migration and accelerate the pace of Africa's economic transformation to inclusive development.
African leaders have been fully conscious of the need to act to address the challenges posed by food insecurity to their countries. To this end, African leaders have mapped out the way for improved agricultural performance and enhanced food security by adopting the CAADP programme to which they recommitted themselves fairly recently during the AU Heads of State and Government Summit in Malabo, in June 2014. They pledged to increase investment in agriculture of 10% from their national budgets, as well as to take actions to address climate change, including transfer of affordable technologies for adaptation and mitigation to allow Africa space for sustainable development. By adopting the provisions of CAADP programme, countries such as Ghana, Ethiopia and Rwanda have been able to make remarkable progress in the area of food production. For example, Rwanda, one of the first countries to adopt the programme in 2007, was able within a five-year period, to raise its maize harvest by 213% from 0.8tonnes per hectare to 2.5tonnes per hectare.
Conscious of the fact that placing emphasis on agriculture without addressing availability of timely and reliable climate information to guide policy formulation and programme implementation cannot achieve food security, AUC together with ECA and AfDB established the ClimDev-Africa Programme to build and enhance the ability of policy makers, government institutions and practitioners to make use of climate change information  to effectively manage climate risks and link climate change concerns to development imperatives in general.
Furthermore, increasing agriculture productivity alone is not sufficient to ensure food security. Agriculture must gradually transition from subsistence agriculture to agriculture as a business in order to achieve the objective of ending hunger and eliminating poverty. Transforming agriculture into a more dynamic, commercial oriented, productive and competitive sector will not only improve productivity but also create jobs, generate incomes and enhance livelihoods. This is the surest way in which agriculture would contribute to rural development, food security and poverty eradication.
Aside from the imperative of affordable production inputs, the transformation of Africa's agriculture from subsistence farming to business oriented agriculture also requires more value-addition agro-processing and agribusiness, as well as improved access to markets, all of which need significant amounts of energy.
Availability of affordable, reliable and sufficient energy to drive this transformation process is critical across the entire agricultural value chain. Unfortunately however, energy from existing grids is not accessible to rural areas and communities. And even when the energy infrastructure exists the cost is simply too prohibitive. This situation prevails despite the fact that the continent has ample renewable energy sources in the form of solar, hydro, wind and thermal energy which could be harnessed to provide reliable and affordable energy capable of transforming rural economies.
Furthermore, Africa faces unique challenges of poor physical infrastructure and poor market access, as well as weak institutions and policies. Even when farmers have bumper harvests they incur heavy post-harvest losses due the inability to transform, store and transport their produce to markets. Limited access to markets both at local and regional levels perpetuates poverty and food deficiency whereas improved infrastructure would not only open access to markets but also help address challenges of climate change by facilitating movement of food from areas of food surplus to those that suffer crop failure due impacts of climate change.
Thus adopting innovative agronomical practices such as conservation agriculture, making use of climate information, using and managing water efficiently, improving rural infrastructure and enabling access to power as well as markets among others, confirming the fact that, agriculture has a vast potential to drive African economies towards inclusive growth and address predicted impacts of climate change.
Since Africa's population livelihoods depend on performance of the agricultural sector and the rural economy and directly linked to the state of poverty, countries need to invest more in the areas mentioned so that Africa can transform the agricultural sector, feed its people, sustain the economic momentum and create wealth along with ensuring inclusive economic development.
Africa's needs are unique and the continent faces exceptional climate challenges. Therefore, efforts to transform its economies, including its agricultural sector, require clear understanding of the intricate relationships between water, energy and agriculture production and the need for efficient management and the use of climate information in development.
Finally, it is also critical that existing disconnect between the components of national agricultural systems of innovation, industry and science and technology research institutions; as well as fragmented scientific and technological activities are removed through enhanced integrated approaches to scientific and technological interventions specific to commodity value chains in order to achieve desired transformation of this sector. The good news is that Africa now recognises that scientific advancements and innovation are the keys to transforming African agriculture.