The African Agricultural Technology Foundation (AATF) has concluded arrangements to sustain the gain of Nigeria's first genetically modified crop variety, the Pod Borer Resistant cowpea with a second gene.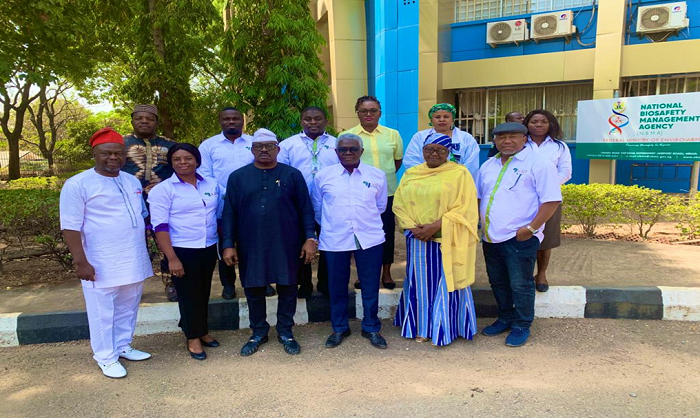 AATF had facilitated the environmental release of the first generation of PBR Cowpea in 2019 after one decade of confined and on-farm trials by the Institute of Agricultural Research, Ahmadu Bello University, Zaria.
Speaking during a courtesy call to the Director General, National Biosafety Management Agency (NBMA), Dr Rufus Ebegba, on Wednesday, February 1, 2023, in Abuja, Dr Jean Bapsite, AATF Regional Representative for West Africa, said that unprecedented testimonies from farmers on the importance of the PBR cowpea has compelled the team to quickly work on the stacking of the gene of insert to protect the cowpea against any possible breakdown.
Dr Baptise said: "As is the practice in science, we continue to improve on our successes and leave no gap for any breakdown. The Second gene will strengthen, reinforce, and increase the resistance level of the PBR Cowpea against any attack."
The PBR Cowpea was commercially released to farmers in 2021 and it is currently being planted all over the country with farmers counting the gains of yield increase, less use of chemical sprays and prolific fodder production when compared to the conventional cowpea varieties.
Dr Ebegba congratulated AATF and its partners for developing and releasing a crop variety that benefits and enhances the livelihood of farmers.
He informed the delegation that NBMA has continued to improve its application processes to confirm with current scientific realities.
"Science is not democracy. Our regulation is purely scientifically based, and we shall not be moved by blackmail or emotions. The safety of Nigerians and the environment is our utmost interest," Ebegba said.
He challenged African scientists to take advantages of the numerous opportunities that biotechnology offers to research more into the technology. He wondered why after almost three decades, African scientists are still depending on their foreign counterparts to make progress in domesticating the technology on the continent.